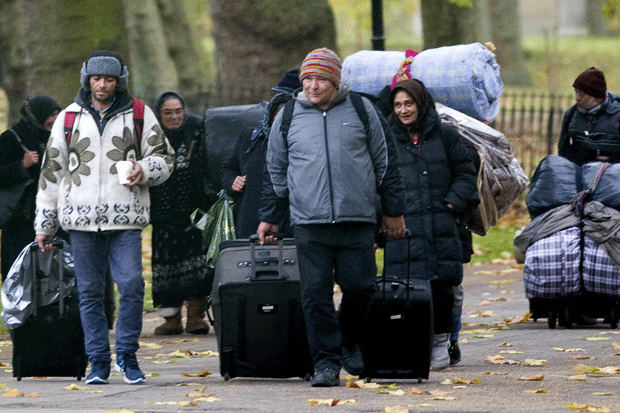 Sofia, January 5, 2015/ Independent Balkan News Agency
By Clive Leviev-Sawyer of The Sofia Globe
A group of Bulgarian cabinet ministers was to meet on January 5 to discuss how to improve border security and the state's response to an expected increase in the number of illegal migrants attempting to enter the country.
The meeting was also taking place against a background of media reports that three European Union member states – Germany, Austria and Hungary – have given Bulgaria notice that they intend returning a total of 7500 refugees to the country because although registered in Bulgaria, the refugees have moved on to their countries.
Further, it also comes against a background of the recent dismissal of the head of Bulgaria's State Agency for Refugees, who had held the post for about a year after being appointed amid the crisis in late 2013 when the country saw a significant increase in the number of refugees, mainly from the Middle East and North Africa.
On January 5, speaking to Bulgarian National Radio, Deputy Prime Minister Meglena Kouneva said that those attending the co-ordination meeting would include the ministers of interior, defence, regional development and agriculture, the latter because of that ministry's role in administering forest areas.
Kouneva said that Bulgaria would seek "much more dynamic relations" with the European Commission in dealing with the refugee issue and said that there was a need for more professionalism in handling the issue.
"We will make the ties with the European Commission (EC) much more dynamic, as they are not good at the moment, so as to count on European Refugee Fund's assistance. Bulgaria can not tackle the issue on its own," Kouneva said.
She declined to comment on the reports about Austria, Germany and Hungary intending to send back thousands of refugees to Bulgaria.
Meanwhile, it remains unclear what will happen regarding intentions announced in recent weeks to involve Bulgaria's military in guarding its border.
Senior ministers spoke of involving the military in guarding the border after a fatal accident in late December in which a border policeman died and several were injured when their lorry rolled on a road in bad condition near the border.
On December 30, Interior Minister Vesselin Vuchkov said that from March 1, the Defence Ministry would transport patrols using more appropriate vehicles and he expressed hope that the military would participate in joint patrols.
Defence Minister Nikolai Nenchev said that the Ministry of Defence would assist, but it was still being discussed how defence personnel would participate.
The government is reported to be considering initiating changes to legislation that would make it possible for the military to be involved in border security in crisis situations. A further issue is that Budget 2015 makes no provision for this.
Separately, the Interior Ministry wants to recruit an additional 700 temporary members of the Border Police, possibly from among former members. Vuchkov was quoted as saying that taking on additional Border Police on temporary contracts as well as adding 200 as civil servants would cost about nine million leva, a sum less than the current costs of securing the border using seconded members of the police force.
The January 5 meeting of ministers was also expected to discuss the accelerated conversion of former military barracks into refugee accommodation centres.