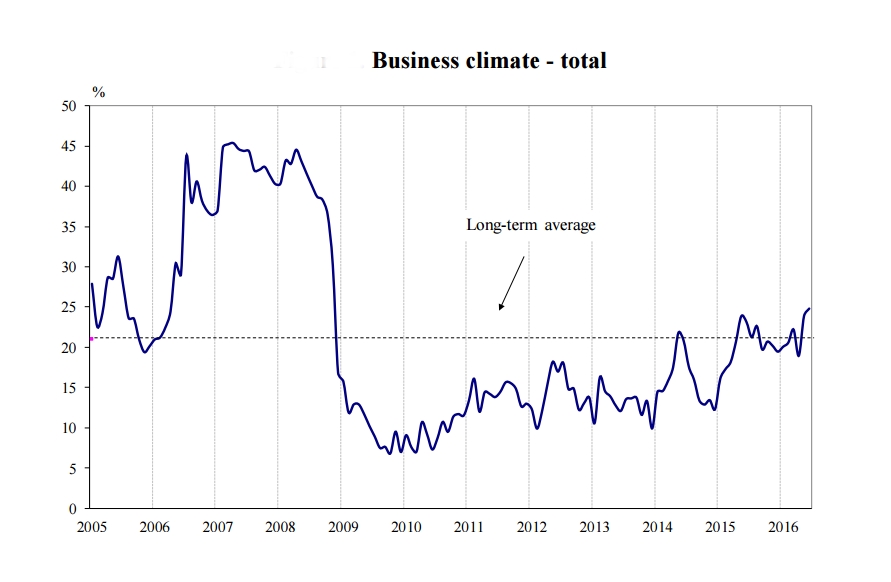 Sofia, June 28, 2016/ Independent Balkan News Agency
By Clive Leviev-Sawyer of The Sofia Globe
Bulgarian business sentiment improved again in June 2016, rising by 0.9 percentage points compared to May, the National Statistical Institute (NSI) said on June 28.
The monthly polls by the NSI in 2016 have been the business sentiment poll showing increases in optimism in January, February, March and May, the exception having been April, when there was a slight downturn.
In June 2016, the total business climate indicator rose as a result of improved sentiments in the industry, retail trade and services sectors.
The business climate in industry indicator rose by 0.8 percentage points in comparison with May 2016, with managers in the sector more optimistic about the current business situation, although their opinions about present production activity were more reserved. However in turn, at the same time their expectations about the coming three months were improved.
For managers in industry, the main problem remained the uncertain economic environment, the NSI poll found. Close to half of those polled cited this as a negative factor.
In Bulgaria's construction industry, the business climate was down by 1.8 percentage points, a result of managers having more reserved expectations about the next six months. They also were concerned by the uncertain economic environment and competition in the sector.
In the retail trade, the poll found a more positive outlook, up by 0.9 percentage points, the NSI said.
This due to retailers' improvement assessment about the present business situation of the enterprises, the NSI said.
However, their expectations about the volume of sales and orders placed with suppliers over the next three months were more reserved.
The competition in the sector, uncertain economic environment and insufficient demand remain the main obstacles, managers in the retail business said.
Their opinions about the demand for services over the next three months also remained favourable, though more reserved in comparison with the previous month.