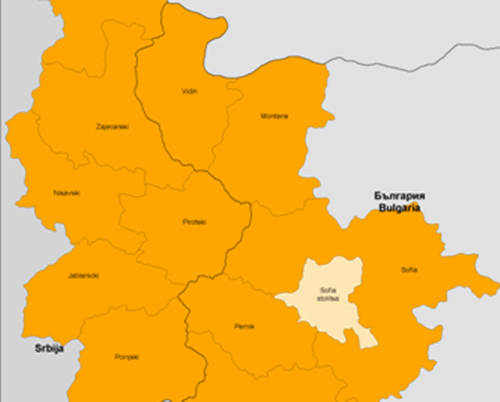 By Clive Leviev-Sawyer of the Sofia Globe
Bulgaria is little bit more of a Western country than previously had been thought, because a point of its border with Serbia has been calculated incorrectly, a local media report said.
According to a report by local weekly 168 Hours, precise measurements of the geographical co-ordinates of where the Bulgarian-Serbian border should be show that an adjustment of a full 9.5 seconds of a degree should be required.
The newspaper's calculations showed that Bulgarian territory should expand 218.6 metres into what is now demarcated as Serbian territory.
The border was set in the post-World War 1 Treaty of Neuilly and at the time, according to the newspaper's account, a "too blunt pencil" was used on the map, on top of everything dividing villages, backyards and in some cases, even houses.
Should the required adjustment go ahead, it would have far-reaching consequences. The first would be for everyone who has gone to school in Bulgaria, who have learnt that the country's area is 110 995 sq km. The adjustment might make the area of Bulgaria exceed 111 000 sq km, the report said.
There has been no official statement from Bulgarian and Serbian institutions so far on the report.
An EU member state, Bulgaria like all other EU countries was admitted only after meeting numerous criteria including the absence of border disputes – even though in a way it does have one difference of opinion on the placement of a boundary line, and that involves a desultory discussion dating back decades, with Romania on just where the sea border between Bulgaria and Romania lies.
There is at least the assurance that relations between Sofia and Belgrade are cordial, with Bulgaria recently again reiterating its support for Serbia's Euro-Atlantic aspirations, so it may reasonably be said that if anyone raises the matter of the theoretical thrust of Bulgaria westward into Serbia by some meters, there is no prospect of a new Balkan War on the issue.