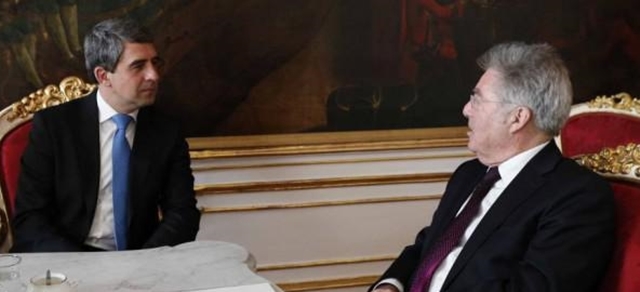 Sofia, March 18, 2015/ Independent Balkan News Agency
By Clive Leviev-Sawyer of The Sofia Globe
Bulgarian President Rossen Plevneliev and his Austrian counterpart and host in Vienna, Heinz Fischer, have stated the position shared by the two countries in support of the European integration of the western Balkans, and discussed ways to speed up the process in the region, the Bulgarian President's office said.
"Together with President Fischer we place the integration of the West Balkans at the centre of our policy. Austria is an engine of this integration and we once again discussed the ways in which we can contribute to speeding up the process in the countries in the region," Plevneliev said, according to the statement by his office on March 17.
"We think that the integration process will be completed when this part of Europe is integrated," Fischer said after the meeting.
Bulgaria and Austria have common plans and aims they strive to achieve, not only in terms of bilateral relations, but also on the European scene, Plevneliev said after his talks with Fischer in the Hofburg palace in Vienna.
Plevneliev said that there was potential to strengthen economic co-operation between Austria and Bulgaria.
He said that proof of this was that that representatives of more than 250 companies had said that the would attend a forum being held by the Austrian Industrial Chamber on March 18.
Plevneliev said that Austria was still among the leading investors in Bulgaria.
In the 1996-2014, Austrian investments in Bulgaria amounted to almost six billion euro, basically directed to the electricity distribution, telecommunications, energy, banking and finance, trade, heavy and light industry sectors.
"We have even greater ambitions and together we will work to ensure a new wave of Austrian investments in Bulgaria," Plevneliev said.
Plevneliev told Fischer of Bulgaria's plans for urgent reforms in the justice, energy, education, security sectors, the pension system so that the expectations of the Bulgarian people and the European investors can be met.
"We are holding an extremely intense dialogue and this is ensures even better results," Plevneliev said.
The situation in Ukraine was also discussed at the meeting. Plevneliev reiterated his position in support of a peaceful and democratic solution to the crisis in Ukraine by observing the sovereignty, unity and territorial integrity of the country.
In Fischer's view, the development of the situation in Ukraine in the past year has shown that international law should be observed and the problems should be solved by means of negotiations, not by using military force. He voiced his hope that the agreements reached in Minsk will be observed.