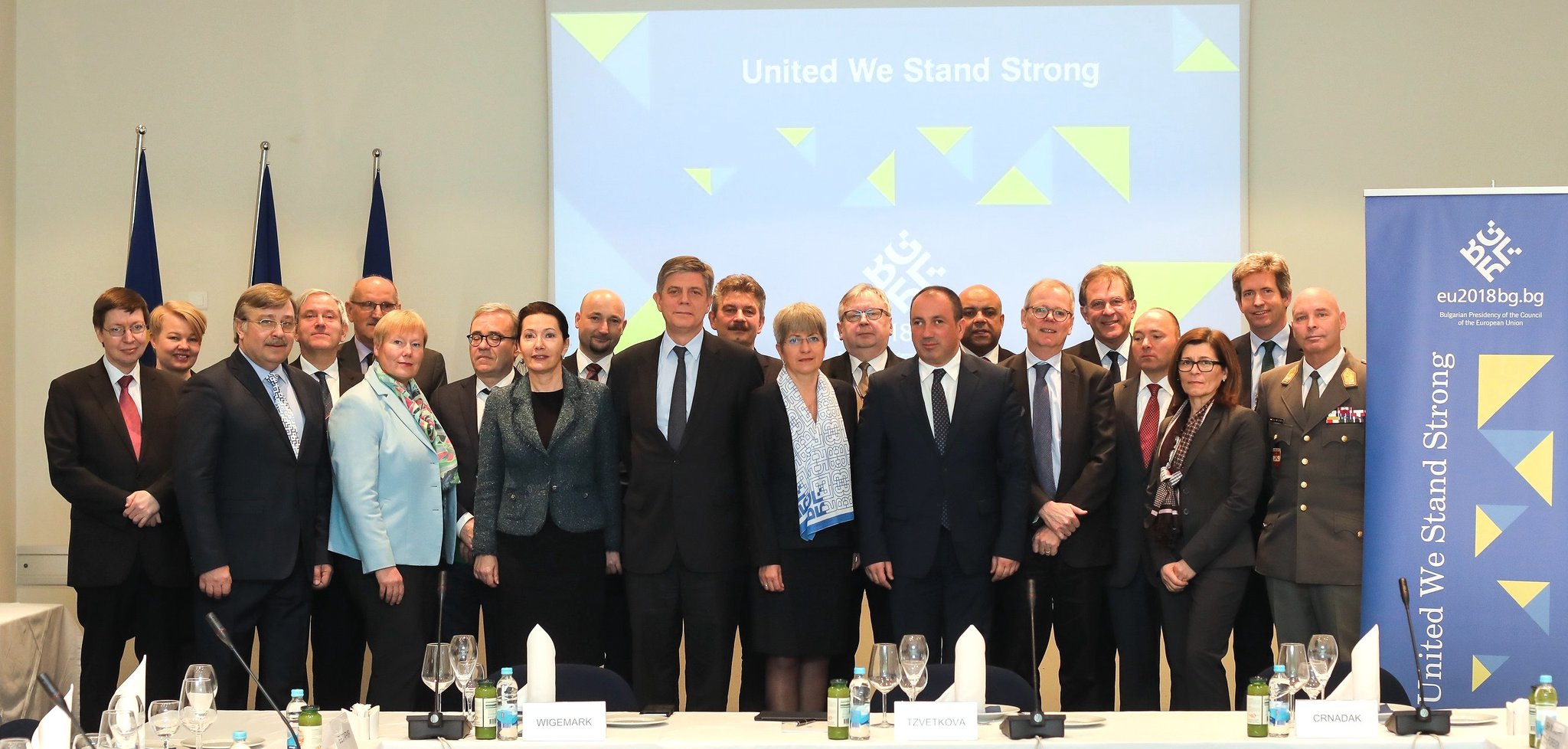 Bosnia and Herzegovina has a chance to improve its status and take further steps toward the EU during the next six months of the Bulgarian presidency, and that chance should not be dropped.
This is the general conclusion of the meeting of the Bulgarian Ambassador to BiH, Avgustina Cvetkova-Karabaševa, with the Head of the EU Delegation to BiH and EU Special Representative, Lars-Gunnar Wigemark, BiH Minister of Foreign Affairs, Igor Crnadak and ambassadors of the EU countries in BiH. Ambassador Cvetkova-Karabaševa presented the program of the Bulgarian EU presidency and emphasised that the Western Balkans is in the focus of Bulgaria's presidency.
"The Western Balkans is in the focal point of our presidency, and our goal is to move countries in the region forward in European integration. The motto of our presidency is the motto of my country and says: "We are stronger together!" The European perspective of the Western Balkans, the digital economy and the future of young people are also among our priorities. The stability of the region is very important to us. Also, it is important to reiterate the European perspective of the Western Balkans and we will repeat this at the Sofia summit", she said.
Ambassador Wigemark emphasised that the focus will be on the Western Balkans and cooperation between the EU and the Western Balkans.
"This is a chance for Bosnia and Herzegovina and for the Western Balkans. The Bulgarian program pays attention to regional cooperation, peace, prosperity and progress. This is not only an empty slogan, and these goals are also supported by Minister Crnadak. The countries of the region have a great chance for better mutual cooperation. This is an election year in BiH, but that can not be an excuse to block reform, because they are really important. As you know, in February the European Commission will present a new strategy for the region. As it was announced, London and Sofia will organize the summits which will be focused on cooperation between the countries of the region. BiH can not allow any politician to block the European path due to short-term profits. This must be clear to everyone in BiH", Wigemark said.
BiH Minister of Foreign Affairs, Igor Crnadak, said that the harmonisation of the answers of BiH on the European Commission Questionnaire is a good step, but it is not enough, and that the opportunity which is given by the Bulgarian presidency must be used to move forward.
"We had an open and honest meeting on the situation in the EU and in BiH. We spoke about  cooperation between us. We are grateful to Bulgaria for its support of the BiH path to the EU and we expect a clear message at the Sofia meeting. We also discussed the obligations of the BiH state and entities institutions and I emphasised that we can go forward only if we are fulfilling our obligations and nobody has the right to block us in this process. We have completed the Questionnaire, but that is not enough. We must use the presidency of several states to make strides forward, despite that fact that we will be in an election period. We must not lose the next year and a half. The ball is in our court", Crnadak said./IBNA