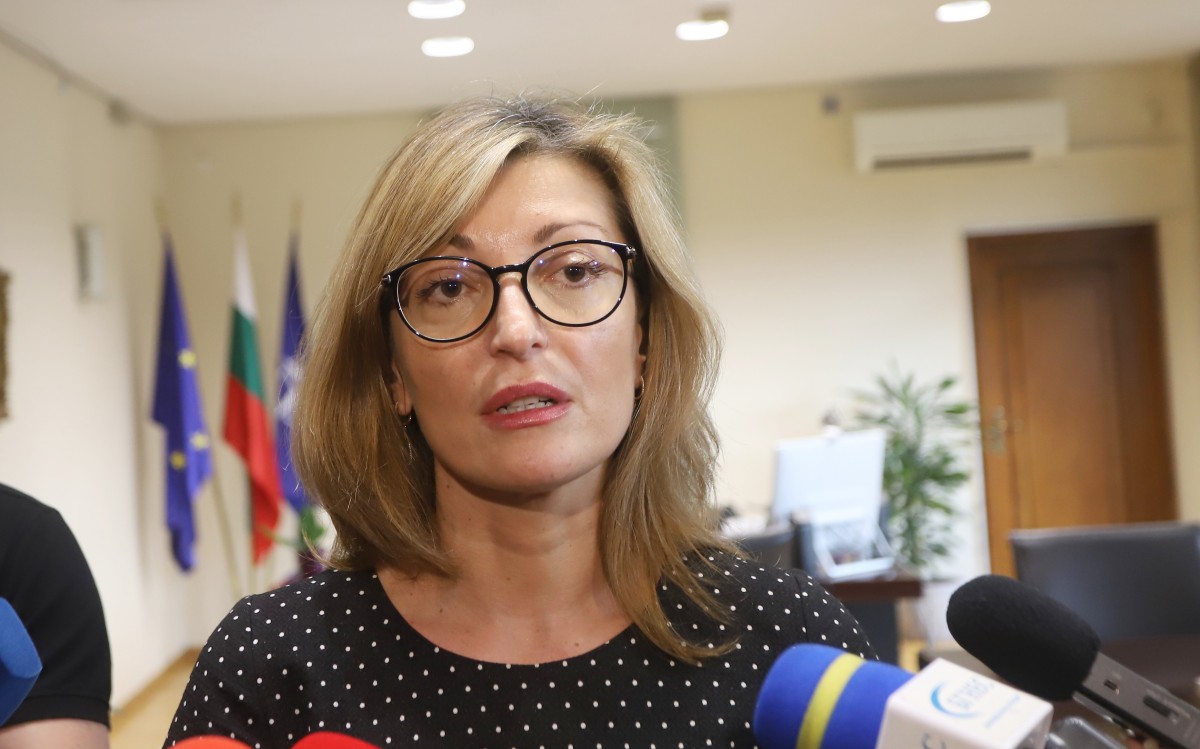 There is no proposal for a new package of measures for Turkey, she notes.
Bulgarian Foreign Minister Ekaterina Zaharieva sends the start of the accession negotiations of North Macedonia to the unforeseeable future, in an interview she gave to Nova TV on Sunday.
In addition, the Bulgarian Foreign Minister sought to unblock the accession negotiations with the forthcoming spring elections in Bulgaria, saying that if an agreement is reached with North Macedonia, the government could approve the five-day elections.
"We have a very clear position. I want to emphasize that it has nothing to do with the elections. "If we reach an agreement five days before the elections, Bulgaria can approve the Negotiating Framework of the Republic of North Macedonia for the start of accession negotiations", said Bulgarian Deputy Prime Minister and Foreign Minister Ekaterina Zaharieva, adding that the main issue of the dispute has to do with the implementation of the Neighborhood and Friendship Agreement, which was signed in August 2017. Of course, Zaharieva forgot to mention that she prepared and signed the problematic agreement of 2017.
"The biggest manipulation coming from Skopje is that we are depriving them of the right to self-determination. We do not deny Bulgarian citizens self-determination, what is left for foreigners", Zaharieva told Nova TV. However, the Minister forgot to mention again that she wants Bulgaria to have a Bulgarian minority in North Macedonia, but North Macedonia should institute that there is no Macedonian minority in Bulgaria.
Zaharieva continued that "we have an interest in starting the negotiations of the Republic of North Macedonia, but we can not turn a blind eye to the protection of national interests. We have many points with the non-observance of the Agreement".
The Deputy Prime Minister once again called on the Republic of North Macedonia to reduce its emotions and not to speak through the media.
"If colleagues from North Macedonia want to become members of a family, it is unacceptable to mobilize all their strength to malign one of the members," Zaharieva told the neighboring country.
Asked if Angela Merkel and Boyko Borissov really blocked the toughest European sanctions against Turkey, such as those published this week, the deputy prime minister said: "it is not true because there is no proposal for a new sanctions package. There is a proposal for a comprehensive analysis of EU-Turkey relations and possibly a new sanctions mechanism for sectoral policies, which should be ready by March".
Regarding the Brexit talks, the Foreign Minister said that it is increasingly likely that there will be no agreement.
"No one wants Brexit without an agreement, but it is possible. Great Britain remains one of Bulgaria's closest partners. We have similar interests, principles. There will be turmoil and difficulties for entrepreneurship, but there are still rules. Our students will need a visa. "There will be problems in every sphere of life, but that is what the British decided", Zaharieva concluded./ibna