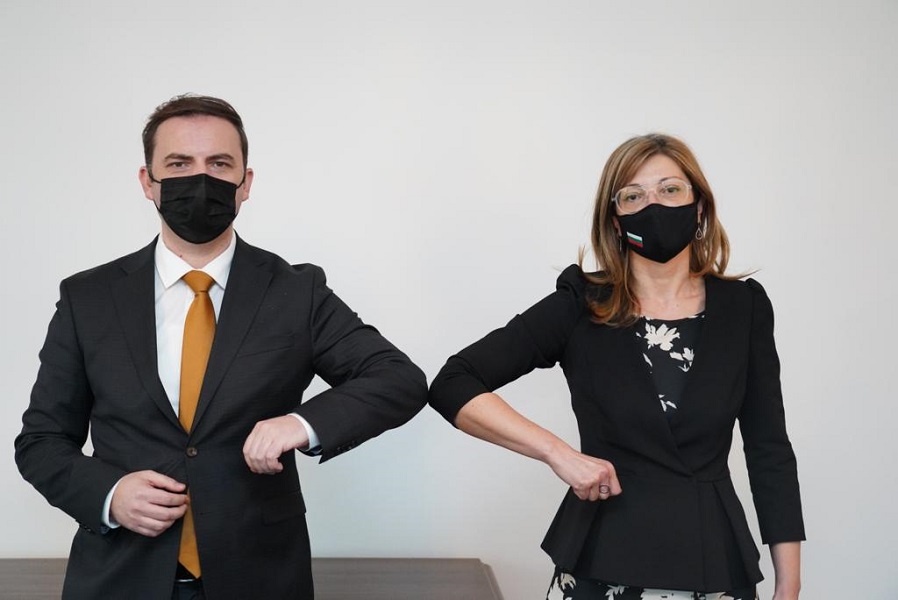 The Minister of Foreign Affairs of North Macedonia, Bujar Osmani, announced through his Facebook profile that on Thursday afternoon he met in Sofia with his Bulgarian counterpart Ekaterina Zaharieva, with whom he discussed sectoral cooperation and preparations for the intergovernmental meeting between the two countries.
"Returning from my visit to Paris, I stopped in Sofia and met with Foreign Minister Ekaterina Zaharieva, with whom we discussed sectoral cooperation and preparations for the Intergovernmental Commission meeting as a means of reaching a good neighborly agreement immediately after the of the "Sectoral Cooperation Plan", Osmani wrote in his Facebook post.
A statement from Bulgaria's Foreign Ministry following the Osmani-Zaharieva meeting stated that Zaharieva had received Osmani, who was traveling from Paris to Skopje via Sofia, at his request
"During their working meeting, they discussed bilateral relations, the European perspective of the Republic of North Macedonia and the challenges we face during the Covid-19 pandemic", the statement says.
Zaharieva confirmed to Osmani, according to the announcement, the "principle-based support for the European integration of our southwestern neighbour, provided it meets the appropriate conditions. The two ministers discussed the joint work for the fulfillment of the obligations of the 2017 Friendship Pact and discussed the forthcoming convening of the Intergovernmental Conference, which will be convened when the two sides approve the draft protocol".
The statement added that "the Bulgarian side stated that according to the 2017 agreement, the next meeting of the Joint Intergovernmental Committee should conduct a full review of the implementation of the agreement, approve the annual report on the work of the Joint Scientific Committee of experts on Historical and Educational Issues and list specific activities for future cooperation".
The ministers welcomed the constructive tone in which talks are taking place between them and between diplomats from the two ministries and discussed concrete plans that will improve cohesion between the two countries.
North Macedonia government spokesman Dusko Arsovski told a news conference that the Action Plan is expected to be the focus of talks between Osmani and Zaharieva and that more information on the agreement will be available after the minister returns from Sofia./ibna