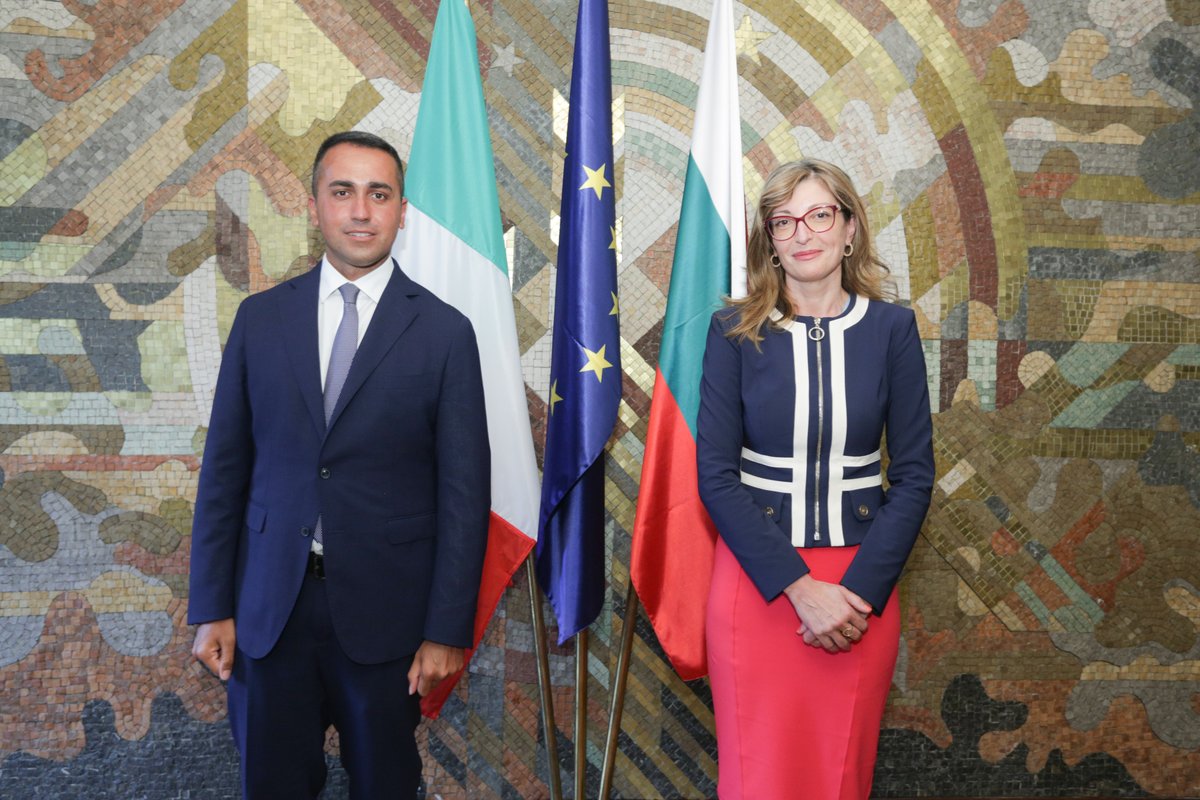 Bulgarian Deputy Prime Minister and Foreign Minister Ekaterina Zaharieva and Italian Foreign and International Cooperation Minister Luigi Di Maio discussed the crisis of COVID-19 and how to overcome its consequences, the Bulgarian Foreign Ministry said in an interview after a meeting with her Italian counterpart.
At the beginning of her speech, Zaharieva recalled the date of Bulgaria's relationship with Italy and stressed that the two countries have long-term cooperation.
"Sofia's story is linked to Italian Deputy Consul Vito Positano. He refused to leave the city with the entire diplomatic mission after learning of the Ottoman authorities' intention to set the city on fire after the April uprising. And although some of the buildings in the center were burning, he helped put out with putting out the fires and organized anti-looting groups. So, thanks to his mediation, Sofia was saved", she said, noting that this brief episode in Bulgarian history is "very revealing and a symbol of our friendship on the 140th anniversary of our diplomatic relations".
Zaharieva congratulated Italy on managing the situation regarding the coronavirus crisis. The Foreign Minister pointed out that in the most difficult times, doctors and the governments of Bulgaria and Italy were in constant communication.
"I am just happy that we have a better coordination at a European level. However, we must have common criteria at EU level when closing our borders. The criteria in each country are very different", the Foreign Minister stressed and announced that they agreed to start a discussion on the issue.
During the meeting, they also talked about the new European medium "Next Generation EU", which deals with the consequences of the pandemic.
"Aslo for the next multi-year framework. Our governments and businesses and our citizens need this help now. Otherwise, the consequences for our economies will be devastating", Zaharieva said, adding that" our leaders will be able to reach an agreement by the end of September. "
She also thanked her colleague for supporting the European perspective of the Western Balkans.
Zaharieva stressed the value of bilateral relations and noted that Italy is one of Bulgaria's most important trading and economic partners.
"There are many Italian companies and factories in Bulgaria. They feel good here", said the Bulgarian Foreign Minister.
Her counterpart from Italy said that relations between the two countries are excellent and are strengthened by very strong trade relations, with transactions reaching 57 billion in 2019.
Luigi Di Maio pointed out that he was late in arriving in Bulgaria today because he had to attend the approval of a decree to relax the measures.
"It's an important day for us. Tonight we approved the decree to simplify measures and strengthen the country's economy, reduce bureaucratic structures, the possibility of opening construction sites", he said, adding that the decree allows people to return to work and invest again, overcoming bureaucratic hurdles.
Di Maio commented that European citizens need quick answers, ambitious answers, in order to overcome the difficult economic phase they are facing, but this will only be possible if the EU and its member states rise to the occasion. That way we can feel satisfied, Di Maio added./ibna