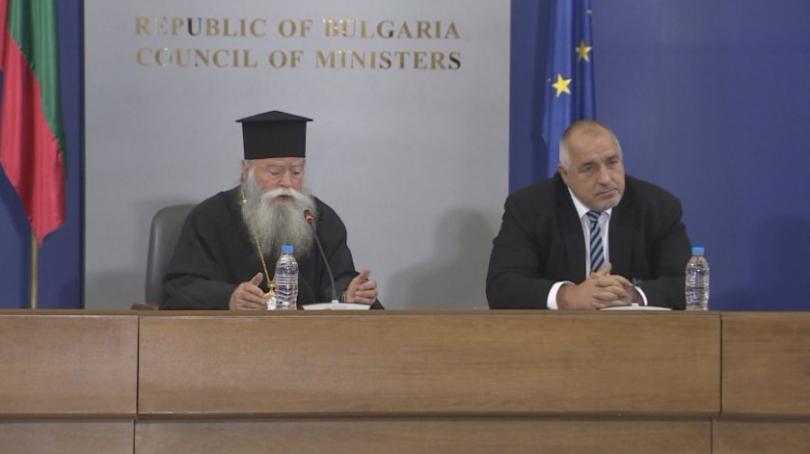 Bulgarian Prime Minister Boyko Borissov met with Patriarch Neophytos and the Synod's Metropolitans on Thursday (April 9th). They discussed security measures over the coming Sundays and Easter holidays to prevent the spread of the coronavirus pandemic.
Due to the epidemiological situation and the declared state of emergency in the country and due to the fact that the Holy Light has been preserved in the Bulgarian Patriarchate since last year, the Synod proposes the government flight to and from Tel Aviv to transport the Holy Light not to take place and the funds for the flight to be spent in the fight against coronavirus, said Metropolitan Gabriel of Lovec, adding that the Holy Light will be received from the places where it is being kept.
As for Palm Sunday, churches will not distribute flowers to the faithful. According to the Holy Synod, this is not a small compromise, but the most important thing is to keep the Divine Liturgy in the faithful, Gabriel noted.
He went on to say that this year, Easter services will be held outside the churches, while measures will be taken to keep people at a safe distance, adding that the icons are constantly being disinfected in the temples, while disinfectants will also be placed at the entrances of the churches. The faithful are asked to wear protective masks and maintain a safe distance from each other.
In addition, on Good Friday, people will not pass under the Epitaph, while the Synod proposed that the Holy Shroud be kept and the faithful pass under it.
Bulgarian Prime Minister Boyko Borissov stressed that churches and monasteries have not been closed during the state of emergency. There was an assurance from the clergy that all measures of protection and distancing were followed in the temples, while a large number of masks were provided to be given to those who did not have one.
Boyko Borissov urged Bulgarians not to go to church for the upcoming holidays, in order not to violate the measures against the spread COVID-19. Interior Ministry officials will help as much as possible to ensure that the distance between the faithful is maintained.
"I urge Bulgarians not to go to churches and monasteries at this time, but my bishops have told me that there are so many people who are in despair and there are thousands who go to church as part of the tradition. I urge them not to go. Churches will function, bells will ring, the trust and strength of the people are very important, and every bishop has pledged to ensure that all measures of hygiene and physical distance are followed", Borissov said, adding that only those in great need must go to the temples.
The Bulgarian Prime Minister noted that there has not been a single Easter where he did not attend the church. But this year he will not go, not because he believes less, but because he wants to set a personal example, adding that the public broadcaster BNT give the signal to all television channels that wish to broadcast the service live./ibna