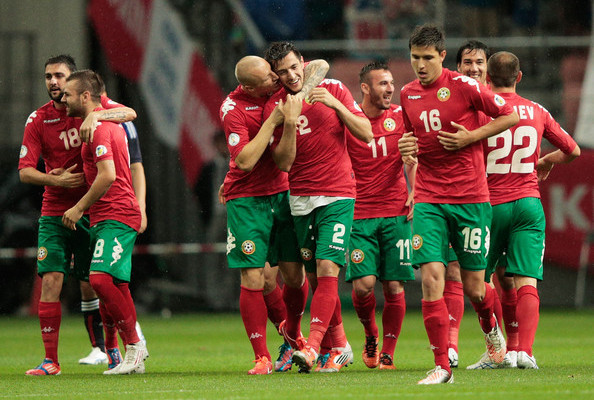 By Clive Leviev-Sawyer of the Sofia Globe
A late goal from substitute Ventsislav Hristov gave Bulgaria a 2-1 win away against Azerbaijan in its first qualifying match for the 2016 European football championship.
Missing key players both in defence and attack, Bulgaria started the game slowly and the hosts had the better chances to score early on, but it was Ilian Mitsantski that gave Bulgaria the lead in the 13th minute after a quick counterattack.
Despite the occasional defensive lapse, Bulgaria managed to frustrate Azerbaijan's attempts in attack, but the visitors showed little promise going forward themselves. After the break, the match proceeded along the same lines, only for Azerbaijan to equalise with a 30-metre strike that Bulgaria's goalkeeper Vladislav Stoyanov should have done better to keep out.
With the score tied again, both teams surged forward looking for the winning goal, with Bulgaria having the clearer chances but unable to convert. In the end, the goal came from two of Bulgaria's substitutes in the 87th minute – a corner kick from Todor Nedelev bounced in the goal area, with several Azeri players failing to clear, leaving Hristov with an easy header into the empty net.
After the match, Bulgaria's head coach Lyubo Penev said he was happy with the result.
"There was some tension, the first match [of the qualifying campaign] is important and we were chasing a win," he said. "I think we played well and controlled the match, but several times we had lapses in concentration and lost the ball, which gave [Azerbaijan] their goal opportunities."
Several Bulgarian players commented negatively about the poor state of the pitch in Baku, some going as far as to express hopes that the poor playing conditions may cause Bulgaria's qualification rivals to stumble.
Bulgaria, which last featured in a major tournament at the Euro 2004, will need every little bit of a help in a difficult group H, which also features Italy and Croatia, as well as Norway and Malta. Direct qualification may be beyond Bulgaria, given that it finished dead-last in its Euro 2012 qualifying campaign, but a third place and a berth in the play-offs looks feasible.
The two clear-cut favourites to qualify, Italy and Croatia, both got their campaigns off to a flying start, recording victories over Norway and Malta, respectively, by the same scoreline 2-0.
The next international break will provide a sterner test for Bulgaria's aspirations as it hosts Croatia on October 10 and then travels to Norway for the match on October 13. Bulgaria will also host Malta before the end of the year, on November 16.