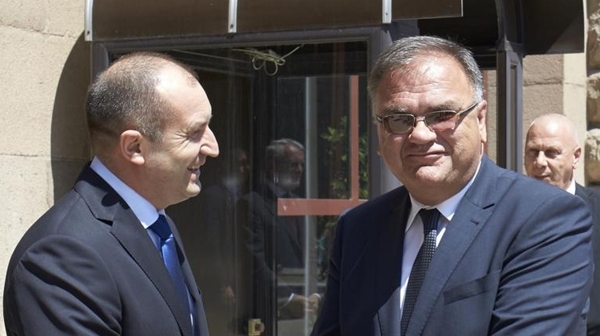 Bulgaria's Prime Minister Boiko Borissov and President Roumen Radev used separate talks on June 12 with visiting chairman of the presidency of Bosnia and Herzegovina, Mladen Ivanić, to underline that the European prospects of the Western Balkans would be a priority in Bulgaria's 2018 EU Presidency.
Bulgaria will remain an active advocate for guaranteeing the European future of the countries of the Western Balkans, including during the Bulgarian presidency of the Council of the European Union, Borissov said during talks with Ivanić, who holds an office equivalent to being Bosnia and Herzegovina's head of state.
Borissov expressed his belief that Bosnia and Herzegovina would continue to move along the path of Euro-Atlantic integration, which is the only guarantee of security in the region.
The Bulgarian Prime Minister highlighted the role of each Balkan country in maintaining peace and stability in this part of the continent as well as in Europe as a whole.
Borissov said that more active co-operation between the institutions of Bulgaria and Bosnia and Herzegovina would lead to more practical success in this direction, as well as in the international efforts to counteract radicalism and terrorism.
Radev said that Bosnia and Herzegovina's membership prospects in the European Union and Nato is necessary for the whole region and an important priority for Bulgaria.
"By supporting the Western Balkan countries on their road to their European integration, we will contribute to the peace and stability of the whole Balkan Peninsula and will receive more guarantees of our common security," Radev said.
Radev and Ivanić discussed the challenges to the development of the Western Balkans and stated their support for future joint initiatives to accelerate economic growth and reduce youth unemployment.
Improving infrastructure connectivity between countries is essential for the European perspective in the region. It was noted that infrastructure projects need to be developed not only along the north-south axis but also from east to west, a statement by the Bulgarian President's office said.
There was also a focus on measures to prevent political instability, ethnic tension, radicalization and extremism, such as strengthening security dialogue and active exchange of information between the security services of both countries, the statement said.
Radev confirmed Bulgaria's readiness to support Sarajevo in the process of candidate status in the EU and in particular during the Bulgarian EU Council presidency in 2018, when EU enlargement to the Western Balkans will be a priority topic for Bulgaria, the President's office said.
"The most effective approach to tackling common challenges is integration at all levels – globally, regionally and within the bilateral relations between Bulgaria and Bosnia and Herzegovina," Radev said.
"The co-operation between Bulgaria and Bosnia and Herzegovina is one of the best examples of constructive dialogue and friendship in the Balkans. In the face of Bulgaria, we see a country close to us who understands our mentality and makes a huge contribution to the stabilization of our country, "Ivanić said after the meeting./IBNA