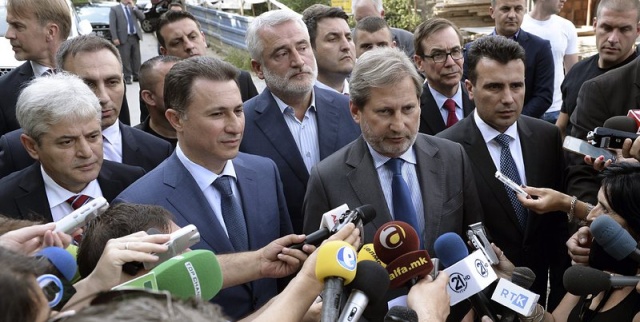 Sofia, July 17, 2015/ Independent Balkan News Agency
By Clive Leviev-Sawyer of The Sofia Globe
Bulgaria's Ministry of Foreign Affairs said on July 17 that it welcomed the agreement achieved two days earlier among the main political party leaders in FYR Macedonia.
"This is an important initial step in the process that should lead to permanently overcoming the political crisis and the challenges facing the Republic of Macedonia," Bulgaria's Foreign Ministry said.
Under the deal reached early on July 15, a special prosecutor will be appointed in September to investigate the wiretapping scandal, Deutsche Welle reported.
Macedonia's prime minister, Nikola Gruevski, is also to step down in January and the Social Democrats, who are the currently the country's main opposition party, are to return to parliament in September. They have boycotted parliament for the past year, a decision prompted by claims of election fraud.
The Social Democrats plan to enter into a unity government in October and are to work with a caretaker cabinet named by Gruevski's VMRO-DPMNE party. Together, they will organise new elections, currently slated for April 24, DW said.
The Bulgarian Foreign Ministry noted that the agreement was brokered by the European Union institutions. The European Commission will continue to monitor in the coming months the full implementation of its recommendations for essential reforms in the rule of law in FYR Macedonia.
"Bulgaria is ready to support the political leaders in Macedonia regarding the implementation of agreements reached by them," the Foreign Ministry said.
"We sincerely hope that the consistent implementation of necessary reforms and the positive development of good neighbourly relations with our country will lead Macedonia to complete fulfillment of the Copenhagen criteria, which would pave its way towards the EU integration process," the Foreign Ministry said.