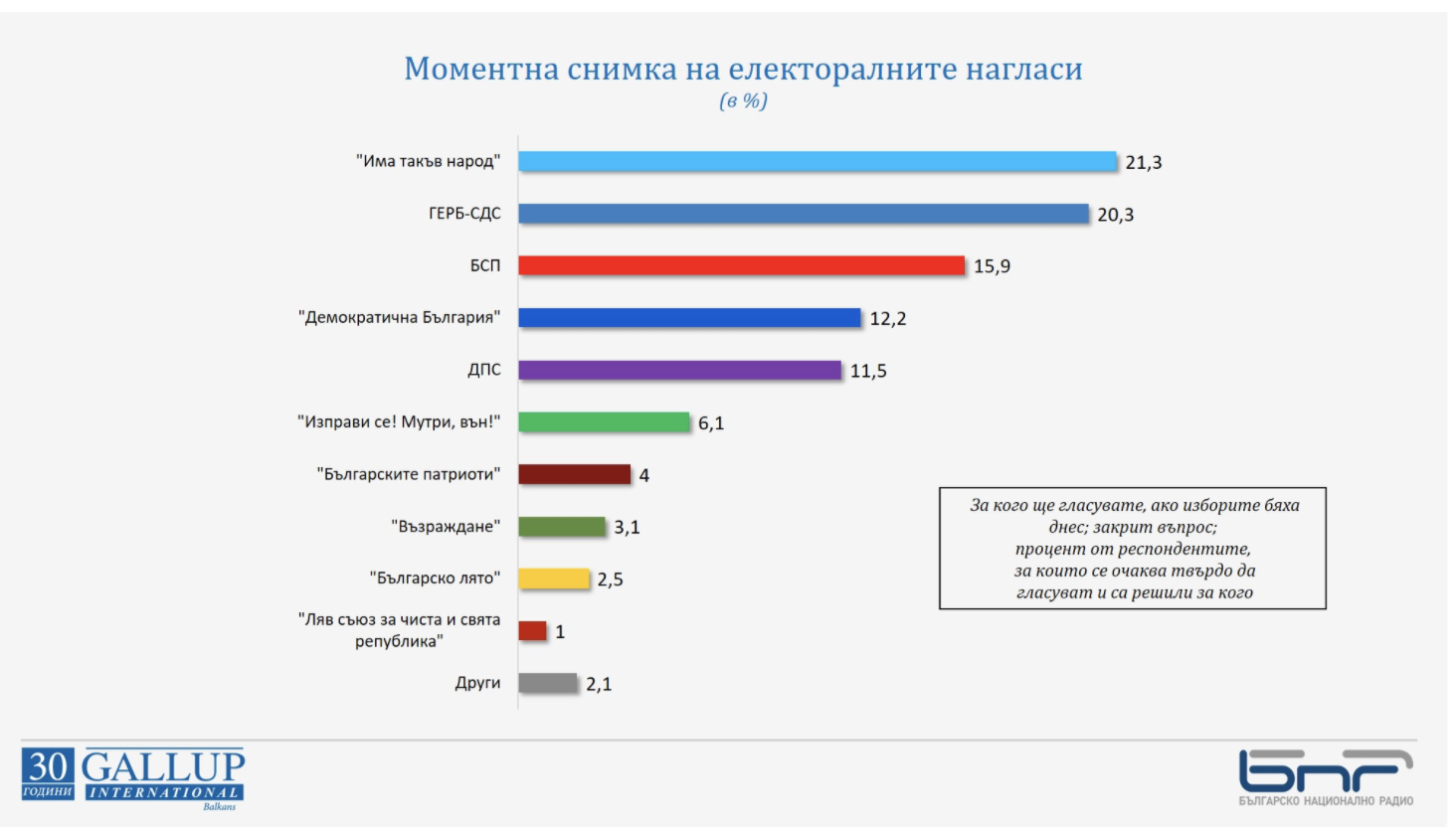 The unpredictability in the upcoming elections is an important factor. The chances for the first place are divided for two parties with slightly more in the party "There is such a People" due to the trends of recent months and weeks.
This is a brief conclusion from a snapshot of the electoral trends, shortly before the end of the election campaign for the July 11 elections. . The survey was conducted by Gallup International Balkan for the Bulgarian National Radio, through a live interview with tablets, among 1,010 adult Bulgarians, a representative sample for the country.
The votes for the parties, coalitions and candidates, if the elections were held today, show the following snapshot before the last days of the campaign.
21.3% of voters support "There Is Such a People" while GERB-SDS 20.3% At this stage, it is almost impossible to determine which of the two parties will come first, as it all depends on the different types of mobilization in both parties. However, it seems that Trifonov has an upward momentum, while GERB has the opposite. Of course, at the moment, part of the potential GERB voters may be "hiding" due to the party's lack of prestige, according to Gallup analysis.
So far, BSP and its coalition remain third with 15.9%. Democratic Bulgaria and the MRF have similar results, at 12.2% and 11.5%, respectively. In the case of the minority party MRF, the possible vote by Turkey creates a difficulty in report. Democratic Bulgaria, on the other hand, has strengthened in recent weeks.
The "Stand Up! Mafia Get Out" formation is at 6.1%, with Bulgarian Patriots on the verge of entering parliament at 4%, and their prospects depend entirely on the size of the limit and the degree of mobilization.
However, the last days and hours can make all the difference. For example, Vazrazhdane has 3.1% and Bulgarian Summer 2.5%. Both formations have ambitions to cross the line. The coalition around Jean Videnov has so far had 1% electoral support, but in this type of new formations the declarative tendencies are not always the best indicator.
With these results, the three protest parties still do not have a majority. Of course, there is a time when this could change.
Almost 50% say they will vote. According to the poll, a wide range of voters are expected to vote in the run-up like the April 4 election. However, participation forecasts are generally extremely difficult.
At least one of the voter has stated that he or she "does not support anyone." Invalid ballots are also expected to be minimized due to machine voting.
The sample is representative of the adult population of the country. The study was conducted between June 30 and July 7. The absolute maximum error is ± 3.1% to 50%. 1% of the total sample equals about 55 thousand people./ibna