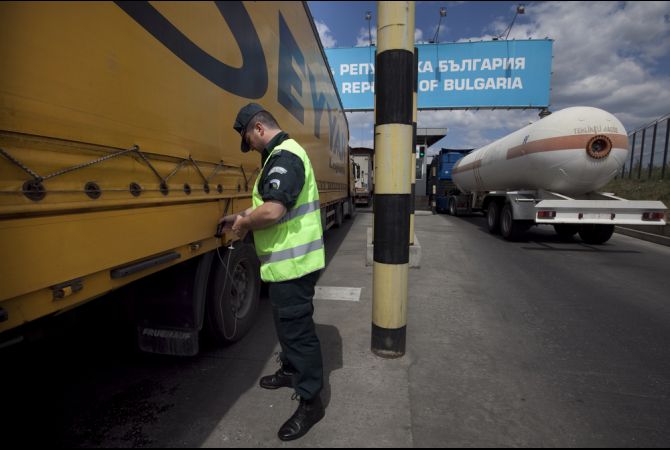 By Clive Leviev – Sawyer of The Sofia Globe
Bulgaria and Turkey will hold talks in Turkish capital Ankara on February 21 with the aim of resolving the problem of truck transport permits that has led to problems at the border in the past week.
This was announced by Bulgaria's transport ministry on February 8, even as leaders of Bulgaria's freight truck industry were preparing for discussions on whether to blockade the Bulgarian-Turkish border in protest at the situation.
The problem arose after Turkey embarked on reciprocal action after Bulgaria issued a number of transport transit licences far lower than the agreed quota. The result has been long queues of lorries at the Bulgarian-Turkish border, while some Turkish freight companies have diverted trucks via Greece or on Black Sea ferries.
The situation was discussed briefly by the prime ministers of Turkey and Bulgaria in Sochi on February 7, and announcement of the bilateral talks on February 21 followed.
Already, both Sofia and Ankara have threatened to complain to the European Commission about the situation, in which each accuses the other of violating pre-existing rules and agreements.
The management board of the Association of Bulgarian Enterprises for International Road Transport and Roads (AEBTRI) was due to meet at the Kapitan Andreevo border checkpoint on February 10 to discuss possible action.
AEBTRI head Georgi Petarneychev said that on February 7, International Road Transport Union (IRU) Secretary General Umberto de Pretto had written calling for dialogue to resolve the issue.
De Pretto said that Bulgarian and Turkish representatives should meet for talks in Geneva on February 27 if the issue was not resolved by then.
"We are talking to the drivers in order to receive more information so that at the (AEBTRI) management board sitting I will be able to present impartial information and we will be able to take the most appropriate decision on what to do next: whether to support the protest or seek other alternative solutions," Petarneychev said.
Bulgaria's transport ministry said that the February 21 talks in Ankara would cover the issue of quotas for permits for road transport and "other issues of mutual interest".
The ministry said that an agreement signed in Ankara in 1977 governed the issuing of freight transport permits, placing this in the hands of the relevant authorities, who decide how many permits will be issued each year.