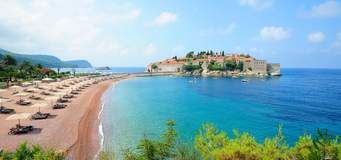 Bucharest, April 29, 2016/ Independent Balkan News Agency
By Irina Stoica
In 2015, over a million Romanian tourists visited Bulgaria, making them the most numerous foreigners in the neighboring country for the 8th year in a row. Each one pent, in average, 600-800 euros. So the revenue these tourists bring to Bulgaria is about 1 billion euros, according to figures quoted by the Bulgarian Embassy in Bucharest. But other countries in the Balkans are also in the focus for Romanian tourists, and Bucharest-based tourism consultant Liviu Curta names a few of them for IBNA. "The favorite destinations for Romanian tourists are, without any doubt, Bulgaria and Greece. Both countries still range high when it comes to the quality of the services, where Greece has a bit of a plus, in my opinion. Rates are also very good in both countries. I should add that when it comes to the full season length, Greece has a bigger time range than Bulgaria, it's somewhere between 30 and 45 days", Curta says.
But the newest comer in the tourists' preferences is Montenegro. "It's a summer destination that is getting a lot of investments, has god services, amazing scenery, great fares, and incredibly friendly people. From my point of view, it's a destination in the Balkans that we'll see getting even bigger attention, investments and development. Montenegro has fabulous beaches with fine sand at Tivat, Budva, Kotor, Becic, Petrovac. Their minus would probably be the maintenance, they're not quiet the cleanest beaches, even though most of them are private. Areas that are in the vicinity of the beaches have the same problem, but I'm sure it will be handled in the near future. The road trip from Romania to Montenegro is not short at all, but it's spectacular and I believe that the infrastructure will also improve in the years to come. Montenegro has adopted euro even though the country is not in the Eurozone, and that speaks volumes about future investments, especially German investments, in this country".
For the winter season, Romanian's favorite destinations remain those related to winter sports. One of them is Bulgaria, Bansko and Borovets being the main focus for Romanians. "Recently, they've managed to attract a lot of foreigners with good quality services, rather low fares and various possibilities for skiing and snowboarding. Ski slopes are rather large and very well managed and most of them have natural snow. Most winter sports lovers in Romania prefer Bulgaria over Austria because it's a lot closer, as we know that most Romanians prefer to travel by car. So shorter trips mean more time for leisure. I must say that I was surprised to see that during the past years many Romanians have started to look towards ski slopes in Romania. The slopes are at rather low altitudes, therefore most of them have artificial snow. So from that point of view we cannot compare ourselves to Austria and Bulgaria, as much as we'd want to. Still, the service is good and managers are trying to compensate the shortcomings by offering a good report between services and rates. Some of these are Poiana Brasov, Straja, with 12 slopes, 10 cable stations, Paltinis, Transalpina Ski Resort, Predeal, Suior, in northern Romania", Liviu Curta explains for IBNA.