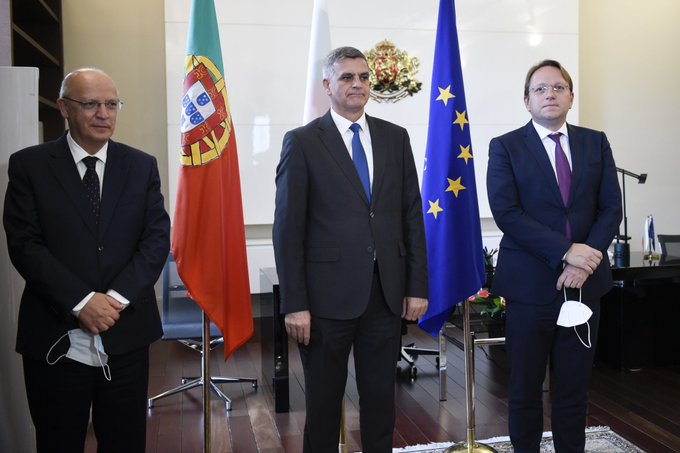 There is no change in Bulgaria's position regarding Republic of North Macedonia, stated the acting Minister of Foreign Affairs Svetlan Stoev, who met today with the Minister of Foreign Affairs of Portugal Augusto Santos Silva and the Commissioner for Neighborhood and Enlargement Oliver Varheli.
"Bulgaria continues to be consistent in its support for the European integration of the countries of the Western Balkans, while respecting the criterion of the individual achievements of each country and respecting the fundamental values ​​of the community as a good neighborliness. We are open for responsible, open and full-fledged dialogue with Republic of North Macedonia. We expect our closest neighbors in the region to work in a spirit of sincerity and constructiveness. I want to emphasize that on this topic there is full continuity and no change can be expected in the national position of Bulgaria in relation to Republic of North Macedonia", said Minister Stoev.
He expressed readiness to meet with Macedonian counterpart Bujar Osmani to discuss initiatives that could be taken by the caretaker cabinet.
"For us, maintaining good neighborly relations and obtaining the necessary guarantees for the implementation of the 2017 Agreement is of key importance, the Minister stressed and added that "we continue to make efforts to restore confidence in our relations with Republic of North Macedonia".
"Our goal is to take concrete steps to restore dialogue with Skopje, including at the highest level, which will provide a basis for the future regular government to return our relations to the level that should connect two such close countries," Stoev said.
In conclusion, the Foreign Minister stated that he hoped that Bulgaria's efforts and benevolent approach would finally be appreciated by our neighbors and that we would work together to find a sustainable and lasting solution to the open issues in our relations.
The enlargement process is also one of Portugal's priorities. This was stated by Portuguese Foreign Minister Augusto Santos Silva, adding that he relied on the support of the European Commission, with which Lisbon is working closely.
He outlined two enlargement processes: the launch of intergovernmental conferences with Serbia-Montenegro and the approval of a negotiating framework with North Macedonia and Albania.
"It was very important for both processes to hear the Bulgarian proposals, initiatives and concerns. We are doing it through the appropriate diplomatic and political channels, and a lot has already been done. That is why now is the time to have direct political consultations with Bulgaria and they will be of great importance for the ongoing process and very important for the Portuguese Presidency, "said Minister Silva.
EU Commissioner Oliver Varhelyi said it was always very important to hear important Member States on enlargement issues.
"Bulgaria is the leading member state in terms of developing our policy for the Western Balkans. That's why it's always worth coming here to get ideas and consult, "he said, adding that we are at an important crossroads, there are decisions we can make.
Augusto Santos Silva and Oliver Varhelyi, met also the President Rumen Radev and the Prime Minister Stefan Yanev./ibna