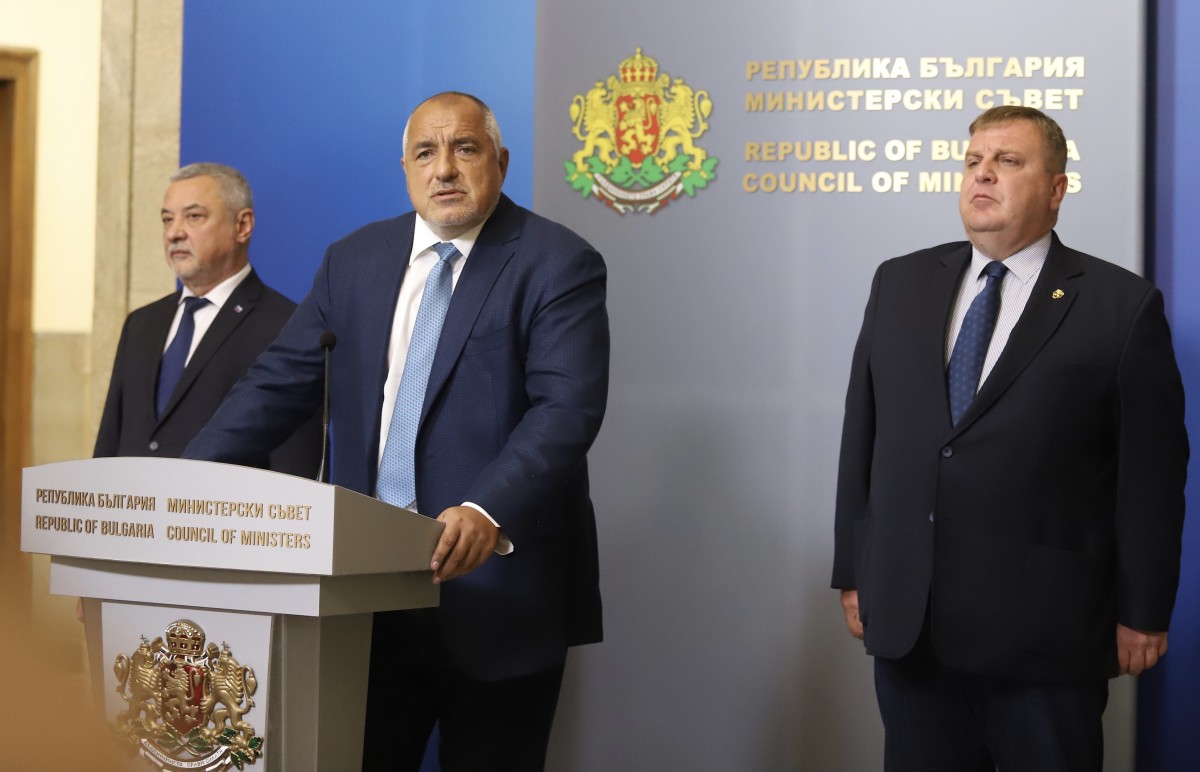 "We accept the resignations of Vladislav Goranov, Mladen Marinov and Emil Karanikolov, as well as the resignation of Nikolina Angelova", Bulgarian Prime Minister Boyko Borissov said in a statement issued after the Coalition Council.
The resignations came amid fierce anti-government protests in Sofia and across the country, demanding the resignation of the entire government, Attorney General Ivan Gechev, and fair elections. Goranov, Mladenov and Karanikolov were named by the GERB coordinators as close to the MRF, so they were asked to resign a week ago. The Minister of Tourism resigns at a time her sector is in the worst possible position, mainly due to the coronavirus pandemic.
The director of the General Directorate of National Police, Hristo Terziiski, will take over the Ministry of Interior.
Lachezar Borisov, who is now deputy finance minister, will sit in Karanikolov's seat.
Kiril Ananiev returns to the Ministry of Finance as Minister to replace Vladislav Goranov.
Professor Kostadin Angelov, who is the director of Alexandrovska Hospital, will be appointed Minister of Health.
Deputy Prime Minister Mariana Nikolova will take over the Ministry of Tourism and will be Minister and Deputy Prime Minister.
Mladen Marinov is a great officer, but there are mistakes that are punished. The actions of the police during the protests, and more specifically in Rosenets, were not typical, commented Prime Minister Borissov.
As a reason for the dismissal of Emil Karanikolov, the Prime Minister also pointed out that he wants control over the economy to be extremely strict, especially in the distribution of grants.
Joining the Banking Union is a great financial success, as well as the money agreed by Brussels. Bulgaria not only maintains them, but also increases them, despite the fact that the EU budget is being reduced by EUR 60 billion, Borissov stressed.
The prime minister said he was ousting Finance Minister Vladislav Goranov because control of the gambling commission had been reduced over the past five years.
Borissov said several deputy ministers were fired yesterday, but did not specify who they were or their successors.
According to him, in a state governed by the rule of law, where there is a Constitution and elected bodies, everyone has the right to protest.
It is a sign of democracy, Borissov said.
"We will continue to work to prioritize the governance program and outline some of the priorities that the United Patriots have insisted on over time. They are related to the demographics, they are related to them and the Bulgarian communities abroad", commented the Deputy Prime Minister and Minister of Defence Krasimir Karakachanov.
As Bulgarian Prime Minister Boyko Borissov announced on Monday, new economic and social measures will be announced to overcome the effects of the coronavirus pandemic./ibna