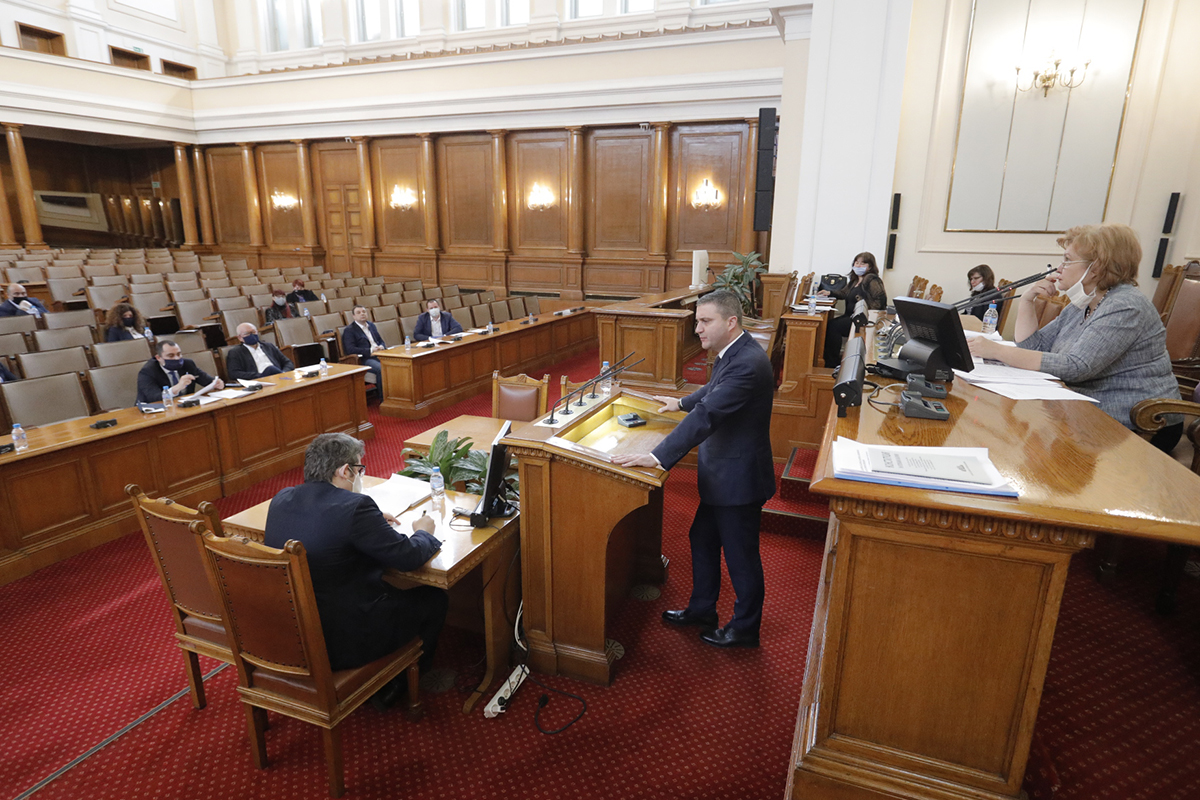 The Bulgarian National Assembly has convened an extraordinary session to vote on the second reading of the law on the extension of the state of emergency, the revision and updating of the state budget for this year and whether to withhold parliamentary allowances.
On Friday, the extension of the state of emergency was approved until May 13 with 122 votes in favor, 47 against and 7 abstentions. The Parliament's Budget and Finance Committee approved in a second reading the update of the budget for this year on Sunday.
A EUR 2 billion increase in the amount of loans through bonds for the Bulgarian state was approved, raising the limit for the new public debt in the country in 2020 to 10 billion leva, about EUR 5 billion.
GERB lawmakers have suggested to have an option for funding from the International Monetary Fund, but Finance Minister Vladislav Goranov has insisted that the country is not in a position to have to borrow from the world's largest lender.
Menda Stoyanova, who submitted the proposal for IMF funding, explained that she wanted to give the government a full range of opportunities to secure the required loan for the crisis caused by the COVID-19 pandemic. Stoyanova withdrew her proposal, with the finance minister saying it was "too early for such a discussion".
According to the government, "Bulgaria is in a good financial position on the threshold of this emergency".
"Bulgaria, as an open economy cannot remain isolated from the ongoing processes in the major eurozone economies, which account for most of the country's foreign trade and exports. In the current unprecedented situation, in which many countries around the world are struggling with all available resources to reduce the spread of COVID-19, the dimensions of the crisis for the world and especially for the European economy cannot yet be assessed and predicted", according to the government.
Extraordinary measures are expected to last longer and have a significant impact on economic activity in the second and third quarters of 2020.
According to estimates, Bulgaria's GDP is expected to decline by 3% in real terms this year. It is also estimated that about 75% of the potential number of employees in the sectors included in the list of support measures will continue with their employment, while the remaining 25% will become unemployed. This means that according to estimates, the unemployment rate is expected to increase by about 2 percentage points from the unemployment rate of 2019, reaching 6.2%.
In justifying the budget bill, it is reported that service exports, which include tourism and transport, will fall by almost 26%. Exports of goods and services will fall by a total of more than 16%. Reducing exports and domestic demand will also reduce imports of goods and services by 12.9%, with a more tangible impact on services. Prices for most goods are expected to fall, except for food and basic necessities, which are not affected by the restrictions imposed by COVID-19. As such, food prices are expected to go up by about 4 %./ibna