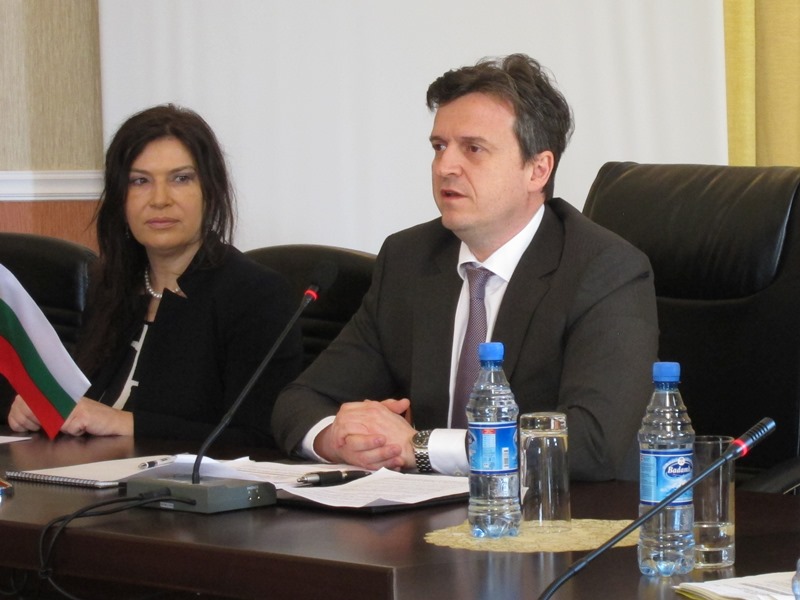 Bulgaria's Energy Ministry was drafting the necessary tender documentation to pick a contractor that would build the gas inter-connector pipeline between Greece and Bulgaria, targeting early 2018 for the start of construction, caretaker Energy Minister Nikolai Pavlov said on February 22.
Pavlov's comments were made during a meeting with his Azeri counterpart Nigat Aliyev in Baku, where the two discussed bilateral relations in the energy sector between Bulgaria and Azerbaijan, the Bulgarian Energy Ministry said in a statement.
Pavlov is in Baku for the ministerial meeting of the Southern Gas Corridor advisory council, which will be held on February 23.
Aliyev re-iterated Azerbaijan's commitment to deliver one billion cubic metres of natural gas a year, while Pavlov underscored that the inter-connector pipeline to Greece was the key new infrastructure needed for that gas to reach Bulgaria, the statement said.
Bulgaria's state-owned gas company Bulgargaz was one of several European companies to sign contracts, in 2013, for the delivery of natural gas from the Shah Deniz 2 field in Azerbaijan, starting from 2019. The shipments would be made using the Trans-Anatolian Pipeline (TANAP), which would cross Turkey and reach Greece, with the new inter-connector serving as the last leg of the delivery route to Bulgaria.
The interconnector will have an initial annual capacity of three billion cubic metres, which could be possibly expanded to five billion cubic metres at a later date. The pipeline will link Bulgaria's gas grid in Stara Zagora to the Greek town of Komotini, a distance of 140km, and will cost an estimated 220 million euro.
Pavlov said that Bulgaria is still working on securing additional EU funding for the construction project, which already received 45 million euro from the European Commission. Separately, Bulgaria's Budget provides for state guarantees for up to 110 million euro in loans from the European Investment Bank and European Bank for Reconstruction and Development for the construction./IBNA
(Bulgaria's caretaker Energy Minister Nikolai Pavlov. Photo: Bulgarian Energy Ministry).