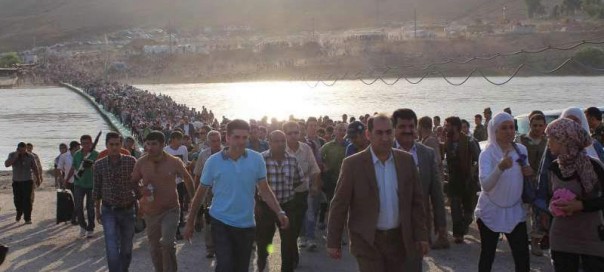 By Clive Leviev-Sawyer Of The Sofia Globe
Bulgaria's Foreign Ministry was holding active consultations and talks on redirecting refugees to neighbouring countries, Deputy Prime Minister and Interior Minister Tsvetlin Yovchev said, against a background of a continuing increase of refugees entering Bulgaria across the Turkish border, mainly from Syria.
"There are refugees from various nationalities, but most of them are Syrian and are families with small children. There are Muslins and Christians among them, as Muslims are majority. According to the estimations of the expected number of refugees that will enter the country by the end of the year and based on the needed resources it was reckoned that the means for upkeep for each of them amounts to 1084 leva (about 542 euro)," Yovchev told an October 3 meeting of a parliamentary committee.
A total of 5815 people had been detained at the border since the beginning of the year to the end of September, which is seven times more that the same period last year. In September 2013 alone, 2377 people had been detained, he said.
"This is associated with humanitarian crises, terrorist organisations, health risks and social risks," Yovchev said.
Certain issues arose, because when people get refugee status they use the social and health insurance system.
"Then comes the challenge with integration. They [refugees] have different culture, religion. We will face many other problems, one of which is education. This problem has two aspects. Children must be involved in the educational process," Yovchev said.
Europe has been following closely the refugee situation in Bulgaria, he said.
"Currently, it is very important to show that the problem is serious and we need European solidarity, otherwise in the near future the process would be difficult to control," Yovchev said, according to a report by Bulgarian National Radio.
He said that closing borders was not what he recommended, as such a move would cost more than 10 million leva a month. Yovchev added that if such a critical situation was reached, a decision on closing borders would be taken by Parliament. Later the same day, Plamen Oresharski, occupant of the prime minister's chair in the Bulgarian Socialist Party government, said that Bulgaria could not close its borders because of international obligations to which it was party.
Yovchev said that Turkey had committed itself to strengthening its border controls.
"There is no evidence that the authorities in Turkey are doing something on purpose. They have focused almost all their forces on the Syrian border. Turkey has declared a visa-free regime for its neighboring countries and many Syrians enter Turkey as tourists," he said.
European Commissioner for International Cooperation, Humanitarian Aid and Crisis Response Kristalina Georgieva, who was due to visit refugee facilities in Sofia on October 4 and hold a meeting with Bulgarian Red Cross officials, said in an interview with Bulgarian National Television that EU interior ministers are to decide on support for the refugee issue in Bulgaria at a meeting in Luxembourg next week.
Georgieva said that in 2013, Bulgaria had received 10 million euro for border protection and some 2.5 million euro for receiving refugees.
It was obvious that the money is not enough but the government must look for ways for redirecting financing from other funds, Georgieva said.
Michele Cercone, spokesperson of the European Home Affairs Commissioner Cecilia Malmstrom, said the EC was ready to help Bulgaria in coping with the refugee wave from Syria.
Cercone said that there are special European funds for situations like this and added that Bulgaria needed to define its priorities and needs. The European Commission was ready to offer help as it had done with Greece, Italy and Malta.
The United Nations refugee agency called on October 3 for stronger protection of refugees, stateless and internally displaced people (IDPs) to ensure they enjoy their full human rights.
Earlier, in a major speech to the UN Refugee Agency's (UNHCR) Executive Committee, the agency's Director of International Protection, Volker Türk said first and foremost, those individuals must be "able to enjoy the widest possible array of human rights and fundamental freedoms without discrimination."
While noting that such a focus is "challenging," Türk said that it must "permeate all our interactions with persons of concern."
The UNHCR's focus on protection of individuals must be incorporated in every aspect of its work, he said, from providing education to ensuring refugee camps are located away from threatening borders and designed so women do not face dangerous routes to collect water.
"To be effective, we need to understand their particular needs, not as homogenous groups, but as individuals with specific backgrounds, aspirations and hopes," he said.
Part of that means providing prompt, quality services, such as care to victims of sexual violence, legal assistance and support for the voluntary return home of refugees or their resettlement to third countries, he said.
"It also means advocating for and intervening on behalf of refugees and other persons of concern when they are at risk, for example when in detention or in danger of refoulement," Türk said, referring to a term for forced returns.
The Executive Committee, which Türk was addressing, began meeting on September 30 as part of its annual review of policy for the refugee agency.
In his overview of the UN agency's goals, Türk said the 1951 UN Refugee Convention remained the cornerstone of international refugee law, but new challenges – such as broader migration flows, treacherous crossings of seas and human trafficking – also needed to be addressed through additional channels, including human rights law.
"UNHCR is committed to exercising our supervisory role in relation to relevant international treaties," he said, calling on delegates from some 80 countries in attendance to act in support of the UN agency policy.
"Let's strive to reduce the number of refugees and IDPs in protracted situations further over the next three years through a wide range of creative solutions options," Türk urged.
Nearly 6.5 million people, more than half of the refugee population under UNHCR's mandate, remained trapped in exile for five years or more. Protracted refugee situations are found in 25 countries, according to UN figures.
(Thousands of people flowed from Syria across the Peshkhabour border crossing into Iraq's Dohuk Governorate. Photo: UNHCR/G. Gubaeva)