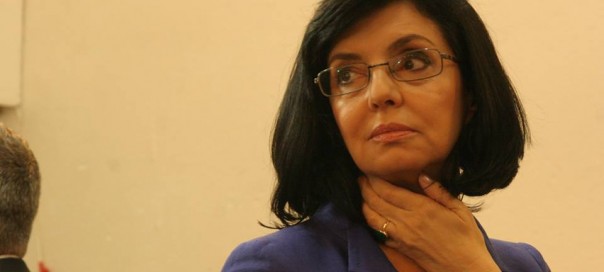 Sofia, April 7, 2015/ Independent Balkan News Agency
By Clive Leviev-Sawyer of The Sofia Globe
Bulgaria will seek a diplomatic solution to the looming confrontation with Greece over Athens' plans to introduce a tax on all cross-border transactions between the two countries, Cabinet officials told a parliamentary committee hearing on April 7.
Deputy Prime Minister Meglena Kouneva (photo), who is tasked with co-ordinating European policies and institutional matters, as well as the foreign and economy ministries, will be involved in the process, Kouneva told the budget committee of Bulgarian Parliament.
She said that Bulgaria's Cabinet was preparing to meet representatives of the Greek government to discuss the matter and Foreign Minister Daniel Mitov said that a visit by his Greek counterpart was also under discussion.
The regulations in question were passed last month by Greece and envision the introduction of a 26 per cent tax on all transactions carried out by Greek companies with firms in countries with "preferential tax regimes", a list that includes three EU member states – Bulgaria, Cyprus and Ireland – with a lower corporate tax rate than Greece.
Under the new rules, the tax would be charged up-front and companies will have three months to obtain a rebate by proving that the transaction was a routine commercial operation, rather than a deal meant to avoid paying taxes in Greece.
The additional paperwork would affect more than 1400 Greek companies registered in Bulgaria, as well as Bulgarian firms dealing with Greek companies, Deputy Economy Minister Lyuben Petrov said. "By seeking a diplomatic solution, by working with our ambassadors, we hope to reach a consensus before seeking a solution in Brussels," he said.
Deputy Finance Minister Kiril Ananiev said that Greece was working on the specific regulations to implement the new rules, which could come into force in the near future. "If it goes into effect, it would put our companies in a disadvantaged situation and would certainly breach the principle of free movement of capital," he said.
With trade between the two countries at 2.8 billion euro, this means that the tax could reach up to 800 million euro a year, prior to rebate, he said. And even in the case of rebates, that amount of money would be temporarily unavailable – because of the up-front nature of the tax – and could put financial strain on the companies subject to the tax, Ananiev said.
Last week, Bulgaria's Finance Ministry raised a formal objection to the Greek regulations in a letter sent to EU economic and financial affairs commissioner Pierre Moscovici, arguing that the new rules "would compromise and impair the overall functioning of the EU internal market", as well as harm bilateral trade and investment.
According to the ministry, the EC could launch infringement proceedings against Athens over this issue or, should the EC issue an opinion favourable to Bulgaria, authorities in Sofia could file a lawsuit against Greece in the European Court of Justice. (Of the other two EU member states affected by the new rules, Ireland was leaning towards issuing no response, while Cyprus has sought a high-level meeting with Greek officials to discuss the matter, Kouneva was quoted as saying.)
Kouneva sought to downplay the letter, telling MPs that Bulgarian and Greek officials should discuss the regulations before they go into force. "There is no problem to get an opinion from the European Commission, but Greece is a neighbour and a major partner for Bulgaria, so it is better to take the diplomatic route," she said.
Ananiev countered saying that diplomatic methods should be employed, but said that "procedural rules cannot cancel a tax that has been implemented. We should use diplomacy, but we should also defend [Bulgarian] national interests."
Several lawmakers on the budget committee said that the Cabinet should draft "reciprocal measures" in case Greece introduces the tax, but Ananiev said that such a step was unwarranted at this time. Kouneva suggested that if Parliament felt strongly about the issue, it should draft its own proposal in that sense.