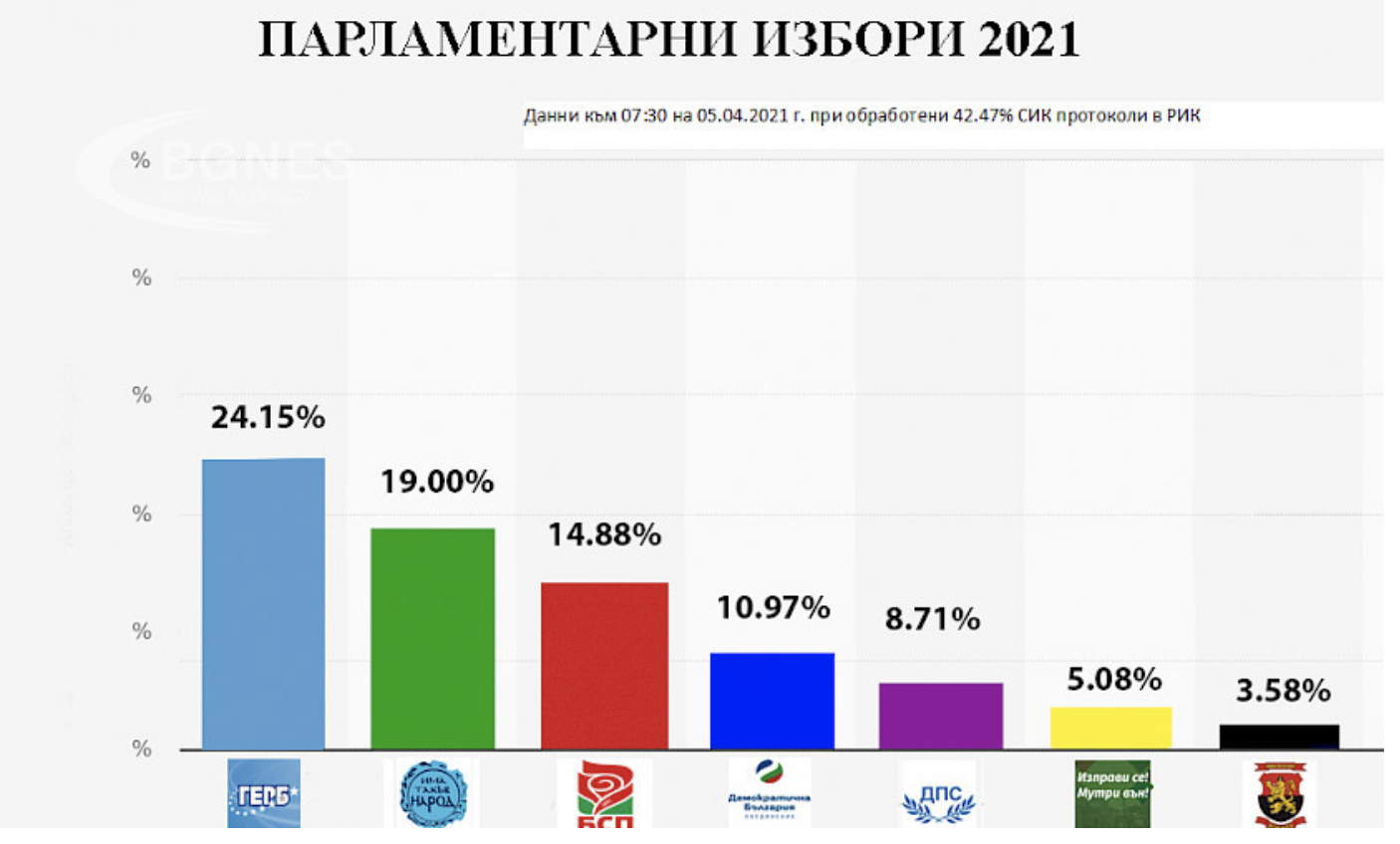 The results of the April 4th parliamentary elections are slowly being incorporated by the Bulgarian Central Election Commission.
At 07:30 the Central Election Commission published the data from 42.47% of the processed results submitted by the polling stations.
According to the results published by CEC, GERB receives 24.15%, "There Is Such A People" (ITN) 19.00%, the Socialist Party (BSP) 14.88%, Democratic Bulgaria 10.97%, the MRF 8.71 %, and "RiseUp! Mafia Out!" 5.08%.
Below the 4% threshold required to enter Parliament is VMRO with 3.58%, the "Bulgarian National Union" with 3.19%, the "Renaissance" with 2.92% and the patriotic coalition "Volia – NFSB" with 2.44%.
In the parliamentary elections on April 4, 30 parties and coalitions of parties participated in the 45th National Assembly, with 6,895 candidates, seeking the vote of 6,732,316 registered Bulgarian citizens with the right to vote.
These were the first regular parliamentary elections since 2009, as well as the first in Bulgaria, where the vast majority of citizens will have the opportunity to choose how to vote, digitally or in the traditional way on paper. Apparatus for digital voting was available in 9,398 out of the total of 11,983 polling stations. Polling stations abroad also increased to 465 in 69 countries, a record number for Bulgaria.
Bulgaria is divided into 31 multi-seat constituencies, which are divided into 240 seats./ibna