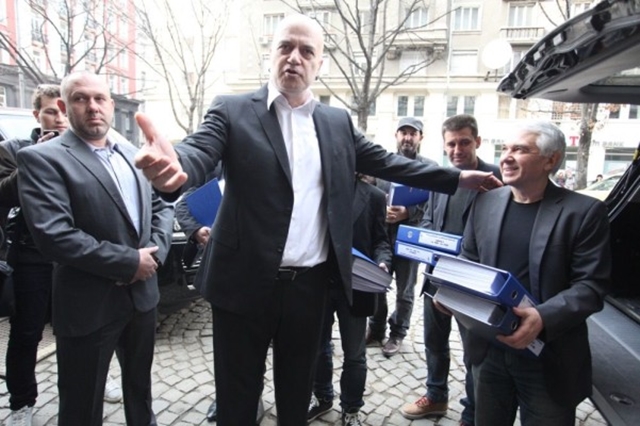 Sofia, April 7, 2016/Independent Balkan News Agency
By Clive Leviev-Sawyer of The Sofia Globe
Bulgaria appears set to hold a referendum on a number of political and electoral reform issues after an official check of signatures on a petition showed that there was a sufficient number to bind the National Assembly to call one.
A statement by Bulgaria's Regional Development and Public Works Ministry said that of 672 888 signatories checked, a total of 572 650 were found to be valid.
Bulgarian law requires the issue of holding a referendum to be voted on by Parliament if a minimum 400 000 citizens eligible to vote sign a petition calling for one.
The petition was raised by Slavi Trifonov, a television talk show host, and presented to National Assembly officials on February 8 2016.
Announcing the results of the check, the ministry said that it had established that there were 99 838 invalid signatures. Of these, 71 719 had false personal identity numbers, 8103 had incorrect addresses, 6469 had false or incomplete names, and 11 274 were repeated entries on the petition.
The check found that 2273 of those who signed were not entitled to vote. Of these, 730 were not Bulgarian citizens, 480 were below the voting age of 18, 81 were subject to legal restrictions, 29 were serving jail sentences.
And apparently, 953 people had signed Trifonov's petition in spite of being dead.
The findings of the check are to be sent to the Speaker of the National Assembly. Parliament will have three months, until about July, to decide on a date for the referendum.
Questions in the referendum are proposed to include reducing the number of MPs, reduction of the state subsidies paid to political parties with seats in Parliament, and a majoritarian election system.
The most recent amendments to the law on referendums provide that if a referendum is to be held in the same year that a national election is to be held, they should be on the same day.
Bulgarians are to vote in presidential elections in 2016, most likely at the end of October or the beginning of November.
However, GERB, the largest party in Parliament, has signalled that it will move to have the provision for simultaneously holding referendums with elections to be dropped.
GERB MPs have indicated that they would seek a date for the vote on Trifonov's questions in August or September. August is peak summer holiday season in Bulgaria, when the country comes to a virtual standstill and the holding of a vote is close to unthinkable.
The theory is that an August or September vote would produce a turnout much lower than might be expected should the referendum be held along with the presidential election. In turn, a low turnout would put the referendum result below the threshold that would make it binding on the National Assembly.