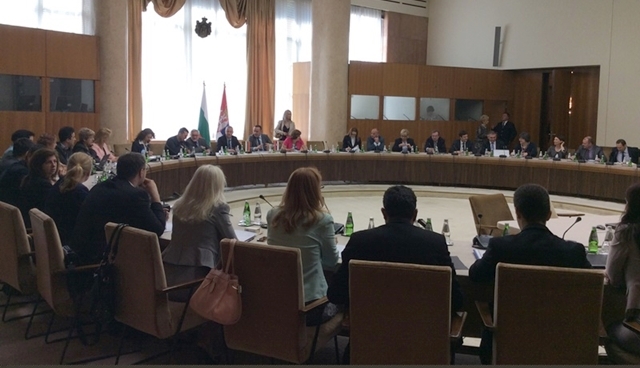 Sofia, June 1, 2015/ Independent Balkan News Agency
By Clive Leviev-Sawyer of The Sofia Globe
Bulgaria's economy minister and Serbia's mining and energy minister have issued calls to boost economic co-operation between their countries.
"Bulgaria and Serbia have always been fraternal peoples, but in recent years we have not paid enough attention to economic co-operation, we have a lot of work to do and I hope that in these two days we will make progress," Bulgarian Economy Minister Bozhidar Lukarski said in Belgrade on June 1, at the opening of the Joint Intergovernmental Commission for Economic Co-operation between Bulgaria and Serbia.
Serbian mining and energy minister Aleksandar Antić, who with Lukarski co-chairs the commission, said that neighbourly and political relations between Bulgaria and Serbia were good: "It's time to give them extra energy and direct them towards economic co-operation".
New infrastructure projects should be started and existing ones finalised, Antić said.
He said that the commission meeting was a good opportunity for Bulgaria and Serbia to develop bilateral relations and to agree on further economic co-operation between the two countries.
Antić said that there were many topics of mutual interest, pointing to major joint infrastructure projects in the field of energy and transport, which should link the two countries.
He said that Bulgaria was one of the biggest trade partners of Serbia with a turnover of about 600 million euro, adding that this had the potential to develop in the future.
According to Antić, there were opportunities in tourism, where Bulgaria and Serbia should develop common activities.
A Bulgarian economy ministry statement quoted Lukarski as saying that besides these areas, Bulgaria's efforts will be aimed at attracting investment in priority sectors for the country such as electronics, information technology, outsourcing, chemical and pharmaceutical industry, machine building, transport and logistics, food, agriculture and healthcare.
He added that the priorities of the Ministry of Economy were aimed at creating the conditions to accelerate economic growth and expressed confidence that implementing them would enable an active and successful partnership between Bulgaria and Serbia.
Serbia ranks 16th in exports of Bulgaria for 2014 and in imports occupies 19th place.
Trade between Bulgaria and Serbia for the period January – December 2014 increased by 4.41 per cent compared to the same period of 2013.
Exports decreased by 2.68 per cent, while imports grew by 12.65 per cent. The trade deficit amounted to 62.5 million euro against 110.7 million euro in the same period of 201.
For the month of January 2015 compared with January 2014, trade grew by 2.6 per cent. Exports increased by 37.67 per cent, while imports declined by 28.16 per cent.
The trade deficit amounted to 12 million euro, against three million euro for the same period of 2014.