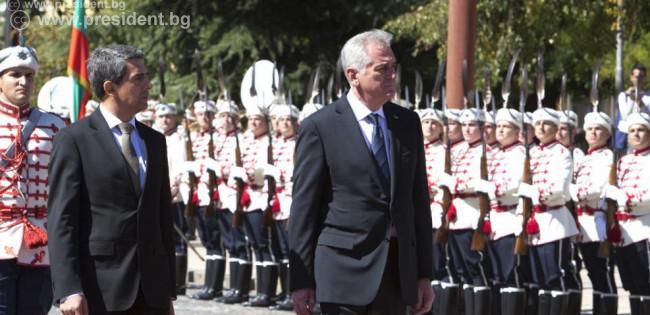 By Clive Leviev – Sawyer of The Sofia Globe
A friendship and good neighbourliness treaty between Bulgaria and Serbia is being prepared, head of state President Rossen Plevneliev said at a joint news conference with Tomislav Nikolić during the Serbian president's first official visit to Sofia.
Bulgaria and Serbia are to hold joint meetings of the two countries' governments, work together on the Sofia-Kalotina- Niš motorway which is part of European Transport Corridor 10, a rail line along this corridor, while the two presidents also discussed the possibilities of opening new border checkpoints and of building a gas interconnector between Bulgaria and Serbia.
Also discussed was the idea of a direct air link between Sofia and Belgrade.
Plevneliev and Nikolić emphasised that politicians need to create room for easier co-operation between business people.
Plevneliev reiterated his support for the Euro-Atlantic integration of Serbia, and said that Bulgaria was willing to offer assistance to Serbia so that its neighbour did not repeat the mistakes that Bulgaria had made on its way to EU membership.
The two told the joint news conference that the good relations between Serbia and Bulgaria were precious and sent a positive message to foreign investors.
Speaking at the opening of a Serbian-Bulgarian business forum on September 18, the first day of his two-day visit, Nikolić said that advantage should be taken of the differences between the two neighbouring countries.
While not a member of the European Union, Serbia had access to the markets of many countries, while EU member Bulgaria had easier access to other markets. Each country could use this to its respective advantage, Nikolić said.