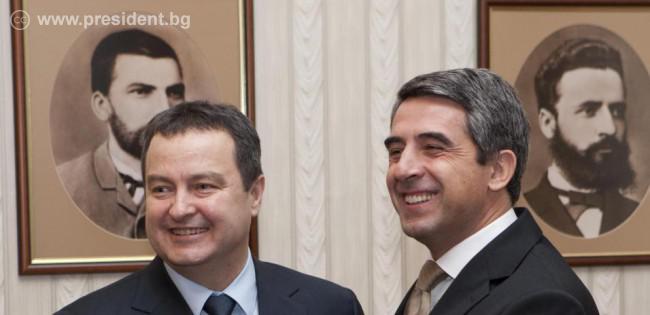 By Clive Leviev – Sawyer of The Sofia Globe
Visiting Sofia, Serbian prime minister Ivica Dačić was assured by state and government officials of Bulgaria's backing for Serbia's European Union membership aspirations, while ministers from the two countries discussed transport, trade and energy links.
President Rossen Plevneliev told Dačić that the integration of the countries of the Balkans is of strategic important for Bulgaria, which strongly supports Serbia's EU prospects being achieved.
A Stabilisation and Association Agreement between the EU and Serbia came into effect on September 1 2013.
Plevneliev told Dačić that Bulgaria would work to ensure that Serbia's EU accession talks start as soon as possible.
The Bulgarian President said that European integration is a historic choice for the countries of South Eastern Europe and represented an "engine of reforms" for them.
Plevneliev and Dačić agreed that the active political dialogue at all levels between Bulgaria and Serbia in recent years should be used for the introduction of more pragmatism in bilateral ties and the promotion of bilateral business ties.
The two agreed that modern transport infrastructure and energy diversification were overall priorities.
Achieving "more connectivity" would increase not only bilateral trade but also foreign investment in South Eastern Europe, Plevneliev and Dačić said.
Bulgaria and Serbia would continue to build good co-operation in the field of defence, Bulgaria's President and Serbia's prime minister said during their talks.
Plevneliev said that there had been effective interaction between elements of air defence of the two countries during a joint exercise in Shabla in autumn 2013.
He said that he was satisfied by progress in the co-ordination on the draft treaty on friendship, co-operation and good neighbourly relations between Bulgaria and Serbia. Plevneliev said that the two countries had the potential to swiftly reach agreement on the agreement.
Speaking at a news conference after meeting Plamen Oresharski, occupant of the prime minister's seat in the current Bulgarian Socialist Party government, Dačić said that an regular air service between capital cities Belgrade and Sofia would start on March 30 2014.
It was expected that there would also be a regular air service linking Belgrade and Varna, Dačić said.
A joint meeting of the Bulgarian and Serbian governments is expected to be held in 2014.
The option also is being considered of trilateral talks with the Romanian cabinet.
"We have common projects, especially in the context of the Danube strategy," Oresharski said.
He said that during the December 11 2013 talks, there had been an emphasis on economic co-operation and the promotion of trade and investment.
The transport ministers of the two countries discussed infrastructure projects. Dačić said that the motorway between Bulgaria and Serbia should finally be completed, and he expected it to be ready by the middle of 2016.
Dačić said that Serbia had done much to fulfil the criteria for membership of the EU, and thanked Bulgaria for its support.
"We expect that the European Council will confirm its June decision that the first intergovernmental conference will be held at the latest by the end of January next year. Any other decision would delay the process of normalisation of relations between Belgrade and Pristina," Dačić said.
Dačić said that the partnership between Serbia, Bulgaria and Romania was very important and conveyed a symbolic message to all."
Responding to a question to a journalist about the South Stream project, Oresharski said that the project not only would provide greater certainty about gas supplies but also, as an economic project, would be beneficial to both countries.
Dačić said that Serbia had "no problem" with South Stream: "There is significant interest in it being implemented".
"I think that the same yardstick should be applied when talking about North or South Stream," Dačić said.
He said that South Stream currently was the biggest project in Europe.
"We see it as economic, not a political project," said Dačić. He also highlighted the Sofia-Nis gas connection, which is independent of the South Stream project.
(Photo of Plevneliev and Dačić: president.bg)