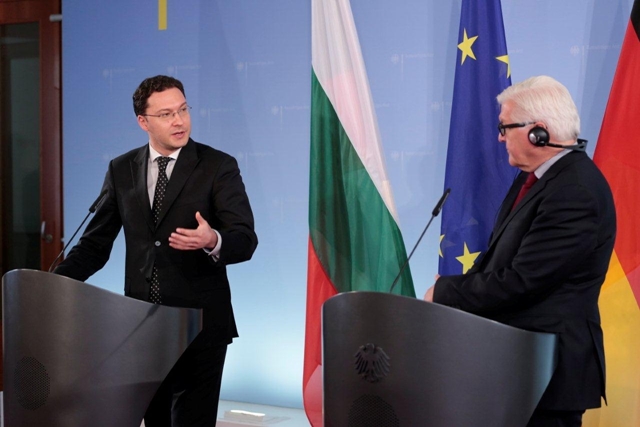 Sofia, April 13, 2016/Independent Balkan News Agency
By Clive Leviev-Sawyer of The Sofia Globe
Bulgaria sees sanctions against Russia as an effective tool to change the policies of Moscow, not as a punishment of Russia as a country, Bulgarian Foreign Minister said in Berlin in talks with his German counterpart Frank-Walter Steinmeier on April 13.
Mitov told Steinmeier that Bulgaria is relying on the Normandy Format to give impetus to a settlement of the crisis in eastern Ukraine and for the extended deadline for full implementation of the Minsk agreements, in 2016, to be implemented.
The Normandy Format is a diplomatic groups of senior representatives of Germany, Russia, Ukraine and France to resolve the situation in eastern Ukraine.
An EU member, Bulgaria has backed sanctions against Russia over that country's actions in Ukraine, though it has been among those directly affected by Moscow's counter-sanctions against the EU.
Mitov and Steinmeier discussed a range of topics, according to a Bulgarian Foreign Ministry statement, including bilateral relations, the migration crisis, EU-Turkey relations, energy issues, the situation in Ukraine, the crisis in the Middle East and North Africa, the fight against Daesh, and the current situation in the Western Balkans.
Mitov said that the focus of international efforts should be directed to eradicating the root causes of the unprecedented refugee flow and counter the activities of Daesh in Syria and Iraq, which threatens to transfer to neighbouring countries, with unpredictable consequences for migratory pressure.
The Bulgarian Foreign Minister told Steinmeier that Bulgaria actively and consistently supports the process of EU enlargement and in this context welcomes the intensification of EU-Turkey dialogue at all levels. Mitov reiterated that Turkey is an important partner of the EU on a number of international issues, including migration.
Bulgaria appreciates the achievements of the March 17 and 18 European Council agreement with Turkey as an important step towards finding a lasting solution, Mitov said.
On energy security, Mitov said that Bulgaria supports the phased construction of the European Energy Union and joint actions towards energy independence.
(Photo: Bulgarian Foreign Ministry)