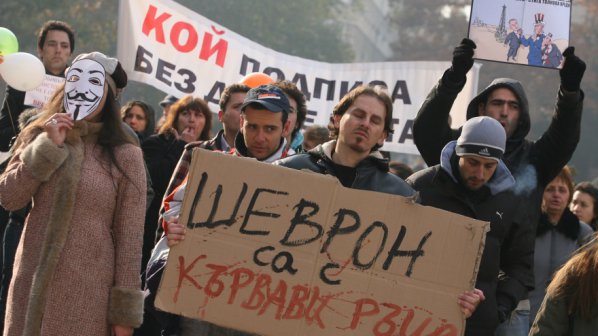 By Clive Leviev-Sawyer of the Sofia Globe
Enviromental conservation organisations in Bulgaria planned protests on September 24 2014 in the country's three largest cities – Sofia, Plovdiv and Varna – against prospecting and extracting shale and coal gas.
Bulgaria's Parliament voted in January 2012 a complete ban on shale gas extraction throughout the country and its territorial waters and at the same time, the then-government revoked a deal with Chevron on shale gas exploration.
But the conservation organisations, with the protest initiating from a group in Varna, allege that the ban exists only on paper and the state is party to breaching it.
The groups are calling for full implementation of the 2012 ban on the extraction of shale gas through the hydraulic fracking method.
According to the conservation groups, in spite of the ban, Bulgaria has given licences to several companies that on their websites and in stock exchange filings have said that they are prospecting for and are prepared to extract gas through unconventional methods.
The call from the groups is for Bulgaria's energy and environment ministries to revoke all licences and contracts for the exploration for and production of shale gas.
The protests, which were preceded two days earlier by protests on the same issue in the town of Shoumen, come less than two weeks before Bulgaria goes to the polls in early parliamentary elections.
The groups called on politicians to state whether they were for or against exploring for and extracting shale gas in Bulgaria.
The 2012 vote on the ban came after widespread protests in Bulgaria, claiming that shale gas extraction would have a serious impact on the environment.
Proponents of shale gas argue that it would liberate Bulgaria from its 100 per cent dependence on supplies of gas from Russia.
The protests coincide not only with the election campaign, which is expected to see victory for the centre-right GERB party that says it stands against energy dependence on Russia, but also with concerns about gas supplies to Bulgaria this winter because of tensions over Russia's actions in Ukraine and consequent EU sanctions against the regime in Moscow.