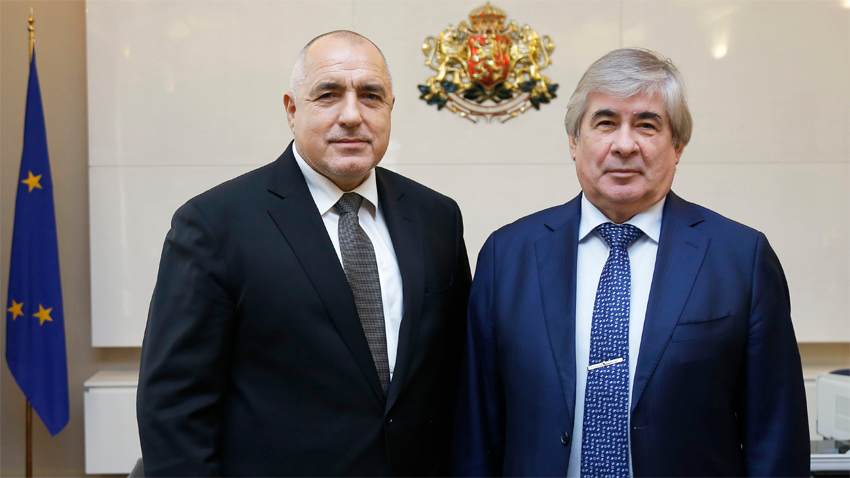 I would very much like this "hunt for Russian diplomats" to end. I believe that the TurkStream gas pipeline will be built and will pass through Bulgaria. I have the assurance from Minister Temenuzhka Petkova. This fits Moscow. This was stated by the Russian Ambassador to Bulgaria, Anatoly Makarov, in an interview on Bulgarian television.
Anatoly Makarov separated Russian-Bulgarian relations before and after October 21, 2019. According to him, things are not logical. The ambassador said there are forces that are not interested in TurkStream continuing its flow through Bulgaria as BalkanStream to the Balkans.
Makarov recalled that before October 21, 2019, several high-level meetings were held between Bulgaria and Russia. Russian Prime Minister Dmitri Medvedev visited Bulgaria in March and spoke with Prime Minister Boyko Borissov. At the beginning of the summer, President Rumen Radev was in St. Petersburg and met with Vladimir Putin, while before that the Bulgarian Prime Minister attended the Black Sea Forum, and in autumn, Ekaterina Zaharieva met with Sergey Lavrov and Minister Denis Manturov in Sofia. We then inaugurated an 11km-long pipeline connecting the Bulgarian and Turkish gas transport systems. This took place on October 21.
Ambassador Makarov said the change of behavior took place a little after that. He was summoned to the Bulgarian Foreign Ministry, where he was informed of the deportation of a Russian diplomat accused of espionage. Two weeks after the inauguration of TurkStream in Istanbul on January 8, he was again summoned to the Foreign Ministry to be informed of the deportation of two Russian diplomats. However, the way this occurred was unacceptable, as the news of the deportation was leaked to the media, before Makarov was made aware of the fact.
The Russian diplomat believes that the cause of these problems in the Russo-Bulgarian relations is TurkStream and its continuation through the Bulgarian territory as BalkaStream.
"What happened; Why did this happen? There is no such precedent in Bulgarian-Russian relations. Someone does not like this and does not want BalkanStream to be implemented on the territory of Bulgaria", and this is materializing after 21 October. It causes feelings of discomfort and resentment. Our relationship was booming, and I was proud of it", the Russian diplomat said.
"I believe the pipeline will be built. We have heard on the radio US Deputy Secretary of State Davis Hale's statement that "TurkStream" is one and the same with "BalkanStream" and that is why it should not pass through Bulgaria", Ambassador Makarov recalled.
However, according to him, TurkStream and BalkanStream are two different things and this is also confirmed by Bulgarian Prime Minister Boyko Borissov. "I believe that the Prime Minister is right and I believe him. There should be no tension in bilateral relations. This is not right. Turkey's TurkStream gas will be cheaper for Bulgaria because no transit charges will be paid through Romania", the Russian ambassador said.
"The US allies don't want this pipeline, they don't want BalkanStream. I asked Temenzhuka Petkova for BalkanStream to pass through Bulgaria and she said yes; Prime Minister Borissov thinks the same. This is what is driving Moscow", Ambassador Makarov said, stressing that there will be more energy projects in the future.
Regarding espionage scandals and the presence of a special Russian team to eliminate "unpleasant situations", such as arms dealer Emelian Gebrev, Makarov replied: This team is like the Loch Ness monster. Everyone talks about it, but no one has seen it. These are fantasies.
The Russian ambassador said he was unaware of the case of Emelian Gebrev, who was poisoned in 2015 for not being in Bulgaria at the time. Makarov had moved to Bulgaria at the end of 2016. This story has re-emerged specifically to hurt the good Russo-Bulgarian relations./ibna