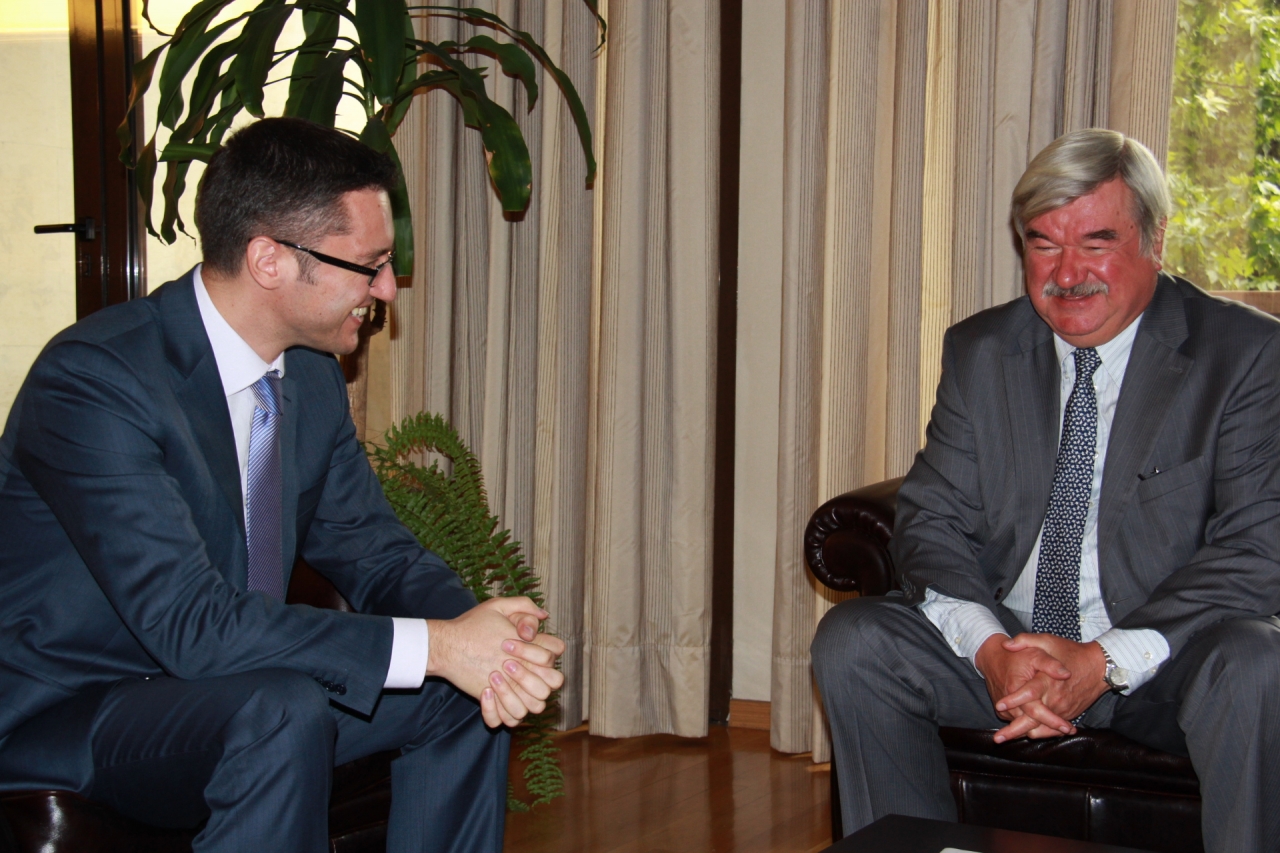 By Clive Leviev-Sawyer of The Sofia Globe
Among the first meetings that Bulgaria's new Foreign Minister Kristian Vigenin has had was with Russian ambassador Yuriy Isakov, hardly surprising given the complexity of Bulgarian – Russian relations and the generally pro-Russian orientation of the Bulgarian Socialist Party that recently returned to power.
The biggest issue in bilateral relations is the Belene nuclear power station project, although it was not mentioned by name in the official communiqué issued after the June 10 talks between Vigenin and Isakov.
The proposal for Belene dates back more than three decades to communist Bulgaria, and since then it has been on-again, off-again.
A January 2013 referendum on whether to go ahead with it ended inconclusively, and the former centre-right government held to its refusal to proceed with Belene, citing a continuing lack of foreign investor interest and the probability that it would burden Bulgarians with massive debt for generations to come.
Bulgaria and Russia are headed for arbitration court over claims by Russia's Atomstroyexport for compensation for sums spent on the project so far.
It also has emerged that more than 1.3 billion leva has been spent mainly on consultancy fees for the project, which stands as a mere collection of incomplete concrete and steel structures on the intended site in the Danube area.
Soon after the inconclusive referendum in January, national protests were mobilised in Bulgaria around high electricity prices.
The Bulgarian Socialist Party, which insists that Belene would mean cheaper electricity and has been the project's sole significant political champion in the country, indicated ahead of the May 12 elections that should it come to power, Belene would go ahead.
But Plamen Oresharski, put in place as prime minister in the socialist government, has said that a decision on Belene would depend on economic and not political criteria.
Bulgaria's Economy and Energy Minister Dragomir Stoinev said on June 10 that Bulgaria did not have the money to build Belene and no political decision had been made to build it. However, matters could change depending on the outcome of a future new technical analysis, local  media quoted him as saying.
In turn, however, it was clear from the debates in January that assessments of the economic impact of Belene are open to a variety of diametrically differing interpretations.
Soon after the new government came to power in May 29, a Russian deputy minister of energy came to Bulgaria for talks, reportedly significantly focusing on Belene – hardly surprisingly, he advocated what Moscow sees as the benefits for Bulgaria.
At the same time, Bulgaria – an EU and Nato member and from 2009 to 2013 under centre-right rule – has recently hardly been close to Russia although the previous government underlined that it was not Russophobic. There were implied criticisms on geopolitical issues, such as Sofia's stance on the Syria issue, where the Putin government is backing the Assad regime.
At the June 10 meeting, Vigenin said, "Relations with Russia are particularly important for Bulgaria and I hope that our economic, cultural and political relations will mark even more progress in the coming years".
According to the Bulgarian Foreign Ministry statement, Vigenin and Isakov agreed that relations with Russia should not be ideologised and that it was time to focus on a pragmatic and constructive approach to them.
"Ambassador Isakov underlined that there is untapped potential in the economic relations between the two countries, and this should be utilized," the statement said.
Vigenin and Isakov also discussed opportunities for strengthening co-operation in the field of tourism and trade and emphasised in particular the need to increase Bulgarian exports to Russia.
"They shared the opinion that the implementation of the European project 'South Stream' would contribute to the diversification of routes of transmission of natural gas, which is of interest to both countries and to Europe," the Foreign Ministry statement said.
Vigenin and Isakov agreed that there are great opportunities for synergies in a number of international organisations, particularly regarding co-operation in the Black Sea region, the statement said.
(Photo, of Vigenin, left, and Isakov: Bulgarian Foreign Ministry)