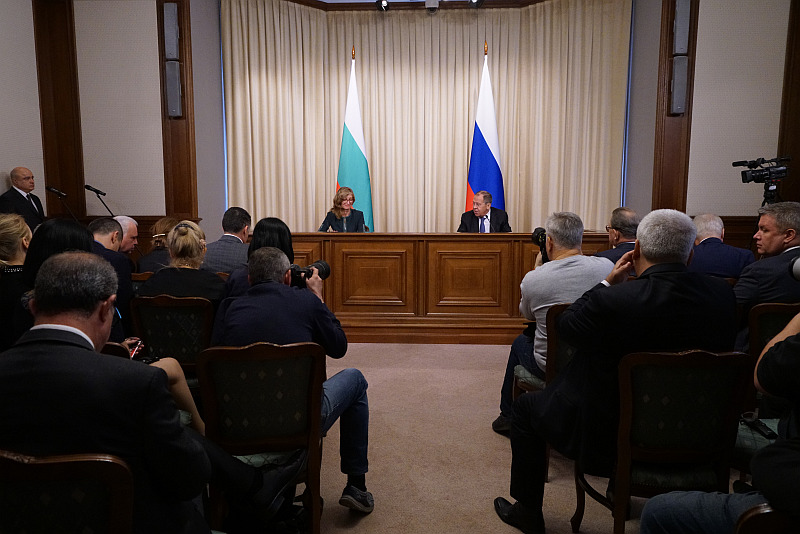 Bulgarian Foreign Minister Ekaterina Zaharieva met her Russian counterpart Sergey Lavrov on October 21 during a visit to Moscow, the first by a Bulgarian foreign minister to the Russian capital city since 2011.
The discussion between the two touched on a number of issues, including energy, cultural relations and tourism, with Lavrov telling reporters afterwards that Russia was satisfied with the "activisation of political dialogue" in 2019, which included a visit by Russian prime minister Dmitry Medvedev to Sofia and Bulgarian President Roumen Radev's visit to the St. Petersburg economic forum, where he held talks with Russian president Vladimir Putin.
The "common work to advance political dialogue" has resulted in strengthened trade and economic relations, Lavrov said.
As is often the case in high-level talks between Russia and Bulgaria, the two ministers discussed the energy sector, with Lavrov once again re-iterating Russia's readiness to participate in the search for a strategic investor for the Belene nuclear power plant, a process that is currently underway, through the state nuclear corporation Rosatom.
The ministers also discussed the onshore extension of the TurkStream gas pipeline, where Bulgaria is now undertaking work to expand its natural gas grid capacity to take on increased transit gas flows.
Other areas discussed by Lavrov and Zaharieva included cultural relations, the prospect of increasing transport links by re-opening a ferry line in the Black Sea and tourism.
Zaharieva invited Lavrov to visit Bulgaria, an invitation that the Russian foreign minister said he accepted. Asked by reporters if that could lead to a visit by Putin to Bulgaria, which had been mooted earlier this year, Lavrov said that should such an opportunity arise, it would be taken./ibna
(Photo: Russian foreign ministry)