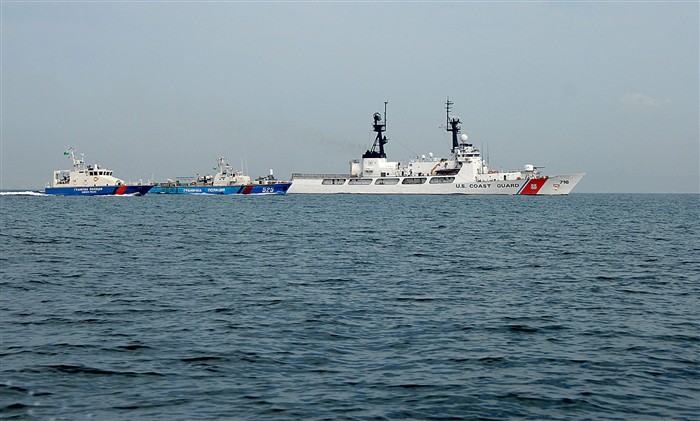 By Clive Leviev – Sawyer of The Sofia Globe
Senior officials from the foreign ministries of Bulgaria and Romania have held discussions on the negotiation process about the delimitation of the Black Sea border between the two countries.
The talks were held in the Bulgarian capital city Sofia on December 9 2013 between Bulgarian foreign ministry permanent secretary Georgi Dimitrov and Romanian state secretary Bogdan Aurescu.
A statement after the meeting said that the discussions between Dimitrov and Aurescu were the result of an arrangement made in August 2013 between the foreign ministers of Romania and Bulgaria regarding "the conduct of an analysis of the current progress and the intensification of the bilateral talks on the topic"
The officials assessed the stage of the negotiations, held only at "expert level" so far, and discussed the opportunities, the prospects and the future schedule of meetings, according to the statement.
The modern border between the two countries was set in 1940 and kept in place after the fall of their respective communist-era regimes.
Bulgaria and Romania joined the European Union on the same date, January 1 2007, and there was a flurry when in March 2012, Romania's foreign minister of the time, Cristian Diaconescu, referred in a media interview to a "disputed territory" of 17km in Black Sea waters.
Talks had by that point been continuing, on a desultory basis, for about 20 years on part of the maritime border between Bulgaria and Romania.
Reference by Bucharest to the "disputed territory" was seen at the time against a background of the discovery by Exxon and Petrom, the latter majority-owned by OMV, of significant natural gas deposits at the Black Sea coast.
Local media noted that Romania hinted that it could take the matter to international court, seeking a victory in a border dispute of the kind that it had achieved against Ukraine in 2009.
At the time of the March 2012 upsurge of attention to the issue, Bulgarian President Rossen Plevneliev expressed confidence that it could be resolved "in a reasonable European manner".
On March 22 2012, talks were held at Bulgaria's foreign ministry headquarters between then-deputy minister Dimitar Tsanchev and Romania's ambassador Anton Pacuretu.
The Bulgarian side expressed its dismay at the statement by Diaconescu reported by local media regarding negotiations on the territorial delimitation of the Black Sea area, a statement by Bulgaria's foreign ministry said after the meeting.
The interpretation that territorial claims might exist between the two countries is dangerous and inconsistent with the spirit of the two countries' common membership of the EU, Tsanchev was quoted as saying.
In response, Pacuretu emphasised that Romania has no territorial claims on Bulgaria and he described what had happened as a misunderstanding. He dwelt on the long history of negotiations and said that he surprised by the fact that they had become a media event, the Bulgarian foreign ministry statement said.