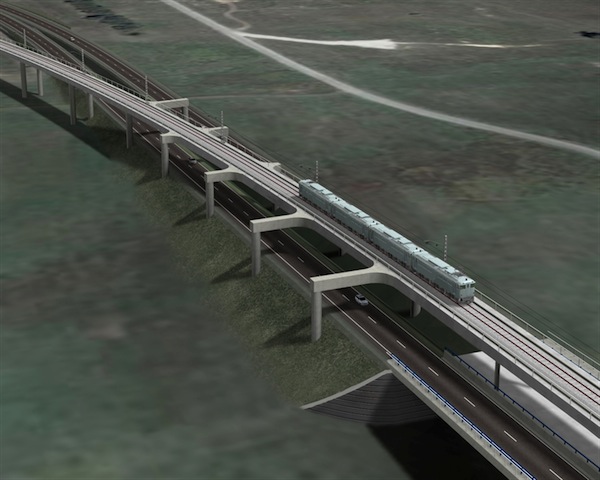 By Clive Leviev-Sawyer of the Sofia Globe
Bulgaria and Romania have agreed that railway traffic across Danube Bridge 2 should go ahead in the "shortest possible time", Bulgaria's transport ministry said on March 20 2014 – just less than three months after the head of state railways BDZ said that rail traffic over the bridge would begin in February.
Danube Bridge 2, officially the New Europe Bridge, was officially opened on June 14 2013 but the rail tracks that cross it in parallel with the road passageway have lain unused since then.
The bridge has had a significant impact, drawing lorry traffic away from the first Danube Bridge at Romania and putting pressure on the roads to the Bugarian city of Vidin which are in generally poor condition.
The opening of the bridge also brought a massive downturn in trade for Danube river ferry services.
But in all this time, the train lines and related infrastructure have yet to have steel wheels run along them.
Bulgaria's transport ministry said that the agreement on putting the railway lines into use had been agreed at the first session of the Bulgarian-Romanian commission on work on the cross-border rail network.
The March 20 talks were led by Bulgaria's Deputy Minister of Transport, Information Technology and Communications Anton Ginev . The Romanian delegation was led by Secretary of State in the Ministry of Transport of Romania, Julian Matache .
At the end of the meeting an agreement was signed marking that Bulgaria and Romania had decided to establish a working group to act on the organisation of passenger and freight transport , the statement said . The first working group meeting will be held at the end of March 2014, the Bulgarian transport ministry said.