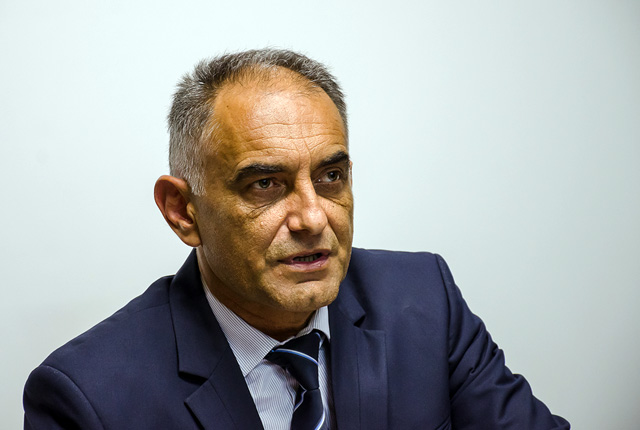 Sofia, September 17, 2015/ Independent Balkan News Agency
By Clive Leviev-Sawyer of The Sofia Globe
Claims that tens of thousands of migrants are headed towards the Bulgaria border are not true, Foreign Minister Daniel Mitov said on September 17, while the head of the country's Border Police said that while there was some increased pressure, the situation at the border was calm.
In a television interview, Mitov said that while there were between 1500 and 2000 people close to the Turkish town of Edirne, the Turkish authorities were working on discouraging them from going towards the borders of European Union countries and were making an effort to return them to refugee camps.
He expressed appreciation for Turkey helping Bulgaria in every way regarding the migrant flows.
Mitov said that he thought that so far it had been proven sufficiently clearly that Bulgaria's border was secure enough. He was responding to speculation that the paths of migrants are changing and would now go through Bulgaria.
There had been some attempts at boats carrying migrants docking along the southern Black Sea, but this had not been on a large scale, Mitov said.
"We need to create an international coalition to deal specifically with the resolution of the problem in Syria," Mitov said.
He said that the other most important steps to resolve the refugee problem are building refugee centres outside EU borders and combating terrorist groups responsible for the refugee crisis.
"Refugee status gives no right to remain in the EU forever – these people will be returned as soon as the situation in their countries is fixed," Mitov said.
Antonio Angelov, head of the Border Police chief directorate, said that the Border Police were making every effort to protect not only the Bulgarian but also the external border of the EU.
Angelov said that there was no severe migratory pressure at Bulgaria's borders, and called on the country's citizens to remain calm.
"No increase has been observed in people crossing our borders illegally. The situation at all our borders is relatively quiet for the season, we are not seeing large groups crossing into our territory," Angelov said.
He went on to say that there was some increased pressure, but this was characteristic of all borders in the EU at the moment.
Efforts by Bulgaria's Interior Ministry and the whole government were producing results, he said.
"We maintain constant contact with our colleagues from neighbouring countries. We have mixed committees and joint patrols with Macedonia, Greece, Serbia and Romania, by which information is transmitted instantly," Angelov said.
He said that since the beginning of 2015, a total of 7640 had been detained trying to enter Bulgaria illegally, which was 3000 more than in the same period last year.
In the 24 hours up to September 16, 54 people had been detained at the Bulgarian-Turkish border, 21 of them found in vehicles.
In the same period, 38 foreign nationals had been detained trying to leave the country illegally at the Bulgarian-Serbian border.
"We are using all available forces and the Border Police are making an effort to preserve not only the Bulgarian border, but also the external border of the EU. Not to say that we are an island of tranquility, I am far from that thought, but through the efforts made by the Border Police and by understanding that we receive from the government, we are managing to not allow the Bulgarian border to become a wide open door for illegal immigrants to Europe."
He said that there was continuous co-operation with EU agency Frontex.
Preparations were being made to expand co-operation with the Ministry of Defence, which according to the situation could be both logistically and through joint patrols.
"We rely on the help of the Ministry of Defence, if we are faced with a situation of large groups of people registered and distributed on our territory," Angelov said.
(Photo of Angelov: Interior Ministry press office)