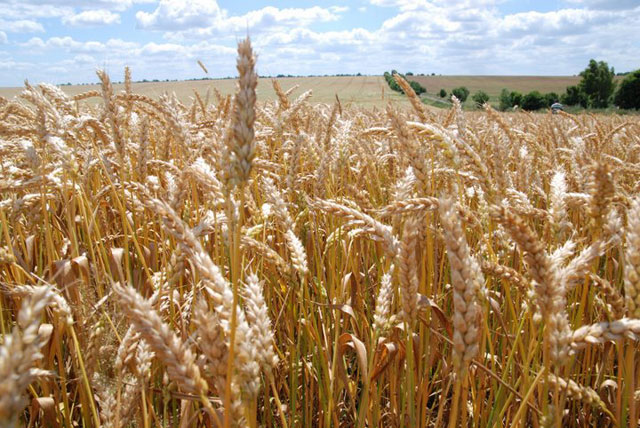 By Clive Leviev-Sawyer of the Sofia Globe
Forecasts are that Bulgaria will see five million tons of wheat and between 700 and 800 tons of barley harvested in 2014, Agriculture Minister Dimitar Grekov said on June 18.
His statement, at the start of the harvest in Gorna Oryahovitsa, came after days of heavy rains caused concerns among farmer, and the statement was followed by a night of thunderstorms and torrential rains and hail that damaged crops in various parts of Bulgaria, including the destruction of 150 hectares of wheat, sunflower and tobacco crops outside two villages in the Svilengrad area.
In his June 18 remarks, Grekov said that if expectations were fulfilled, Bulgaria would have a new record wheat crop, after last year's 4.7 million tons of wheat harvested, which then was the highest in eight years.
"Despite adverse weather conditions in recent weeks, the crops are in good condition and that gives hope for stable yields," Grekov said.
He added that this year's harvest, 8518 combine harvesters would be used, which is three per cent more than in 2013.
Grekov said that farmers were operating in a secure environment it this year as subsidies to the sector were paid at the beginning of the year.
"We laid the foundation for a successful business year by taking measures we must continue to develop, because the future of Bulgaria is in agriculture," the agriculture minister said.
Bulgarian Grain Producers Association deputy head Angel Vukadinov earlier said that he did not expect the heavy rains that have fallen in the first half of June 2014 to have a serious negative effect on the quality of this year's wheat crop.
Purchase prices of Bulgarian wheat currently range from about 300 to 320 leva (about 150 to 160 euro) a ton.
Much of Bulgaria's wheat crop is exported, with neighbour Turkey a significant customer.