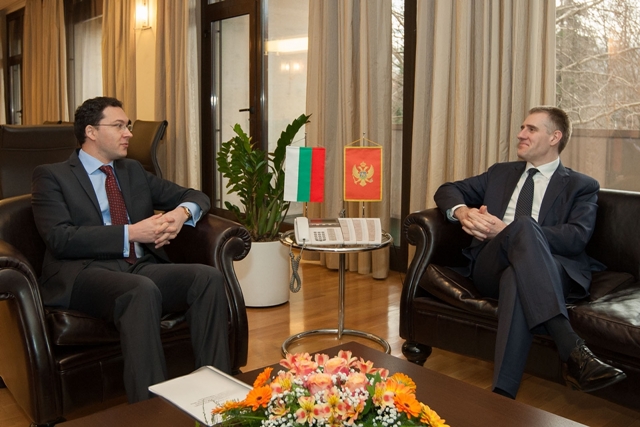 Sofia, February 1, 2016/Independent Balkan News Agency
By Clive Leviev-Sawyer of The Sofia Globe
Bulgaria reaffirms its support for the Euro-Atlantic integration of Montenegro, which is an important partner in the region of South Eastern Europe and a future ally in NATO and in the EU, Bulgarian Foreign Minister Daniel Mitov said on February 1, hosting his Montegrin counterpart.
During a visit to Sofia by Montenegrin deputy prime minister and minister of foreign affairs and European integration Igor Lukšić, the two countries signed an agreement on social security arrangements, which supersedes one signed in 1957.
Mitov and Lukšić said that there was excellent regional co-operation between their two countries, expressed in joint initiatives and in the fact that they participate in formats such as the Black Sea Economic Cooperation and the South East Europe Cooperation Process.
Bulgaria was ready to continue the excellent cooperation in the field of European integration of Montenegro, established at the start of that country's negotiations with the EU in 2012, Mitov said.
Mitov welcomed the work on a new Memorandum of Cooperation in the field of European and Euro-Atlantic integration, which includes deepening of the partnership in the areas of energy, justice, internal affairs, and common foreign and security policy of the EU.
Lukšić thanked Bulgaria for its support in Montegro's path towards the EU and NATO and welcomed the joint efforts of both sides to overcome the challenges of the Balkans and Southeastern Europe.
Mitov said that Bulgaria will assist Montenegro in the process of reforms in the rule of law, the defence sector and the public sector in time for its accession to NATO.
NATO foreign ministers agreed on December 2 2015 to invite Montenegro to join the alliance. Bulgaria's National Assembly voted by a large majority on December 17 to express support for the invitation.
Bulgaria's Deputy Prime Minister and Minister of Labour and Social Affairs Ivailo Kalfin said that the signing of the social security agreement meant that citizens of Bulgaria and Montenegro would benefit from social and health insurance when travelling in each country, as well as temporary allowances in Health.
The signing of the agreement on social security Bulgaria paves a way in the negotiations on Montenegro's EU accession, Kalfin said. It would assist Montenegro in negotiations under chapter 19, the free movement of citizens. The agreement opens the door to free movement of people between the two countries, as their medical and social insurance rights are preserved, he said.
There was a need of an agreement meeting the legal framework of Bulgaria as a member of the EU and of Montenegro as an individual country and as an EU member state candidate, said Kalfin, who signed the document on behalf of Bulgaria along with Health Minister Petar Moskov.