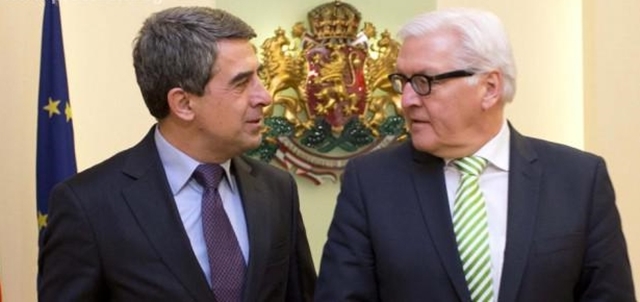 Sofia, March 10, 2015/ Independent Balkan News Agency
By Clive Leviev- Sawyer of The Sofia Globe
Bulgaria has met the technical criteria for joining the European Union's Schengen visa zone and this had been confirmed by the European Commission and European Parliament, President Rossen Plevneliev told German foreign minister Frank-Walter Steinmeier on March 10.
"Bulgaria expects this to be recognised by the partners in the EU," Plevneliev told Steinmeier, who was visiting Sofia for talks with his counterpart as well as with Prime Minister Boiko Borissov and with the head of state.
The abolition of border controls at airports is a first possible step in this direction, Plevneliev said, according to a statement by his office.
Plevneliev also had raised the issue on February 26 in talks with European Council President Donald Tusk in Brussels.
Plevneliev reiterated at that meeting that Bulgaria had met the technical requirements, voicing hopes that all EU member states would acknowledge this fact.
An EU member since January 2007, Bulgaria stepped up its Schengen aspiration more than four years ago but has been thwarted by EU countries that see Bulgaria's performance against organised crime and corruption as inadequate.
The Schengen issue was also mentioned at a joint news conference after the talks between Borissov and Steinmeier.
Borissov said that he was impressed by the fact that both left and right political forces in Bulgaria were making great efforts for accession to the Schengen area.
On March 5, a national campaign was launched in Sofia, entitled, "Bulgaria in Schengen – It is Time!".
While the campaign was initiated by Sergei Stanishev, leader of the Party of European Socialists, the launch also was attended by three members of Borissov's centre-right coalition cabinet – Deputy Prime Minister Meglena Kouneva of the Reformist Bloc, Minister of Justice Hristo Ivanov, also from the quota of the Reformist Bloc, and Minister of Culture Vezhdi Rashidov of Borissov's GERB party.
The organisers launched a subscrition in support of the cause.
"We are today's citizens of united Europe and we believe that the double standards regarding the country's accession to Schengen are unacceptable," the declaration said.
"It turned out Bulgarians are equal to other EU member states in terms of obligations but not rights. Like everyone else in our European family we are obliged to care about our common home, but cannot live freely in it. That is why we want to say that we are not and have never been second-class Europeans," the declaration said.
On March 7, Kouneva – a former European Commissioner and former European affairs minister whose current portfolio as deputy prime minister also covers European policy – said that joining Schengen was an important issue for Bulgaria.
Kouneva added that this was linked to reforms and serious work that has to yield results.