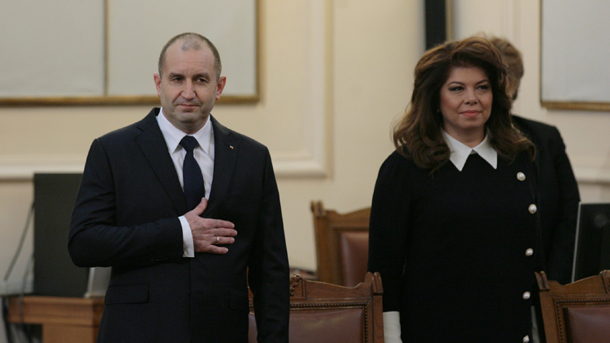 The announcement by Bulgarian President Rumen Radev that he will run again for the presidency in the presidential elections, a few weeks before the parliamentary elections, provoked reactions in the Bulgarian political scene.
Radev's announcement comes almost nine months before the presidential election and without having secured the support of the Bulgarian Socialist Party (BSP).
Parliament Speaker Tsveta Karayancheva commented on the announcement, criticizing Radev for lack of dialogue with the institutions. According to her, the President's decision to run with Vice President Iliana Yotova will not affect the April parliamentary elections, but will commit GERB to run in the elections with a strong candidacy.
Deputy Foreign Minister Georgi Georgiev questioned the president's decision, noting that "I thought he would admit the big mistakes he made, the extreme division of the nation he caused, and finally say he would not run for a second term".
The President of the Citizens' Platform "Orthos Bulgaria" Maya Manolova stated on the Bulgarian radio that she will support the candidacy of Rumen Radev for a second term.
According to Trend political scientist Dimitar Ganev, Radev's move to announce his candidacy is currently a means of putting pressure on the Socialist Party to take a stand on his candidacy.
At a time when the Socialist Party is fighting for victory in the parliamentary elections, Radev is putting extra pressure, as intra-party calm may be disrupted within the party.
The BSP leader put aside her differences with Rumen Radev and would not want to reopen the front just before the election.
The BSP will decide who its presidential candidate will be at the end of the summer, because there are procedures for candidacy and several parties have to decide on the issue, according to Ganev.
"Even if Ninova says today that she will support him, he may not be president after the election, hypothetically speaking. There is such a scenario. Also, a statement by Radev could hypothetically pit Ninova against him again. These are various political situations that should not be ruled out. For this reason, I believe that there is no official significance for Radev's support from the BSP at this time", Ganev said.
Continuing, the political analyst at BGNES noted that for the past three and a half years, the president has been a clear and consistent opponent of the current GERB government. He even went so far as to withdraw his confidence in this government. However, as Ganev notes, "in these three and a half years, two electoral processes have taken place – European and local. GERB won both elections. It was the first political power, which means that Radev's view is respected only by some Bulgarian citizens, but not by all. Radev has taken on the role of a party in a political process and is clearly positioned as an opposition, but that does not mean he is tilting the plate in one direction or the other. It remains to be seen whether something different will happen in the parliamentary election, but even if it does, that is, if GERB is not the first political power, that does not mean it happened because of Radev"./ibna