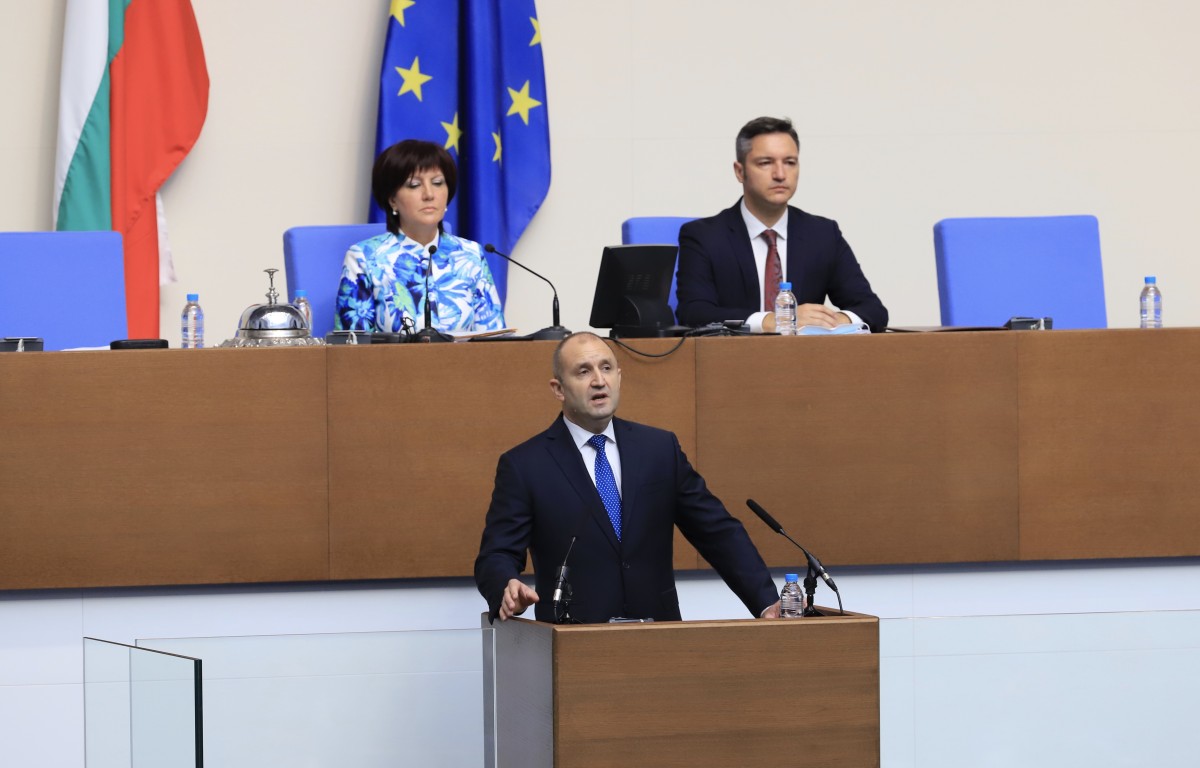 "Running away will not save you from shame. This proves that the real parliament is in front of the building", said the President of Bulgaria Rumen Radev during his speech at the inaugural assembly of the autumn Parliament.
Radev made the remarks when, during his speech, the entire GERB parliamentary group left the plenary.
"I am not excited to be in the National Assembly in this situation. The lack of dialogue is indicative", Radev added.
"In the deep moral and institutional crisis, in the growing distance between citizens and government, the National Assembly is the institution that must take responsibility for the future", Radev said.
"Exactly a year ago, from this step, I spoke to the citizens and to the National Assembly, where I described the situation in the country. Parliamentary control of the executive power must be strengthened; for greater transparency in the institutions, introduction of financial decentralization, improvement of the business environment. I called on Parliament, as the central body, to take action to achieve these important goals for society. I have made it clear that time for change is running out, as young Bulgarians are running out, as Bulgarian villages and Bulgarian retirees are left to fend for themselves one after another. These words were ignored by me, but today the street is full of outraged people who are worried about the future", Radev said, adding that "if the National Assembly had complete control of the executive branch, there would be no streets full of angry people, nor of oligarchs with cupboards full of money".
"The Parliament has become the sincere executor of Prime Minister Borissov's will. No one in this room dared to ask the Attorney General a serious question. I expect the parliament not to take on the role of the Prime Minister's staff anymore, not to change the agenda of the society, not to contaminate the parliament with illiterate exercises for a new constitution, which aims only at saving the current government. It was not the lack of a new constitution and the Supreme National Assembly that made people take to the streets, but the lack of morale in the government, undermining the foundations of the state through corruption", Radev stressed.
"When resignations become a reality, I call on you to stop the status quo from trying to deceive the expectations of the people and to set up a special office, a puppet of the current government", Radev pointed out.
"If you do not want to listen to me, at least listen to your voters who are outside and do not vote for any special government in this National Assembly", the president called on lawmakers, adding that they should not vote for any changes to the election law, because they represent a setback from democracy.
"When political confidence is lost, resignation comes naturally", he added. "There has to be a discussion about the fundamental conditions without which there is no security for the individual, the property and the business", Radev said.
"I urge the protesters and the police to stop the violence and the provocations; we can not stand the just demand of the people to be altered. I expect parliament to prevent the country from becoming involved in chaos, unrest and lawlessness. I call on you to follow the will and demands of the Bulgarians for the immediate and unconditional resignation of the government. We have no other way out of the exclusion of the state, except the peaceful, normal political act of resignation", the President added./ibna