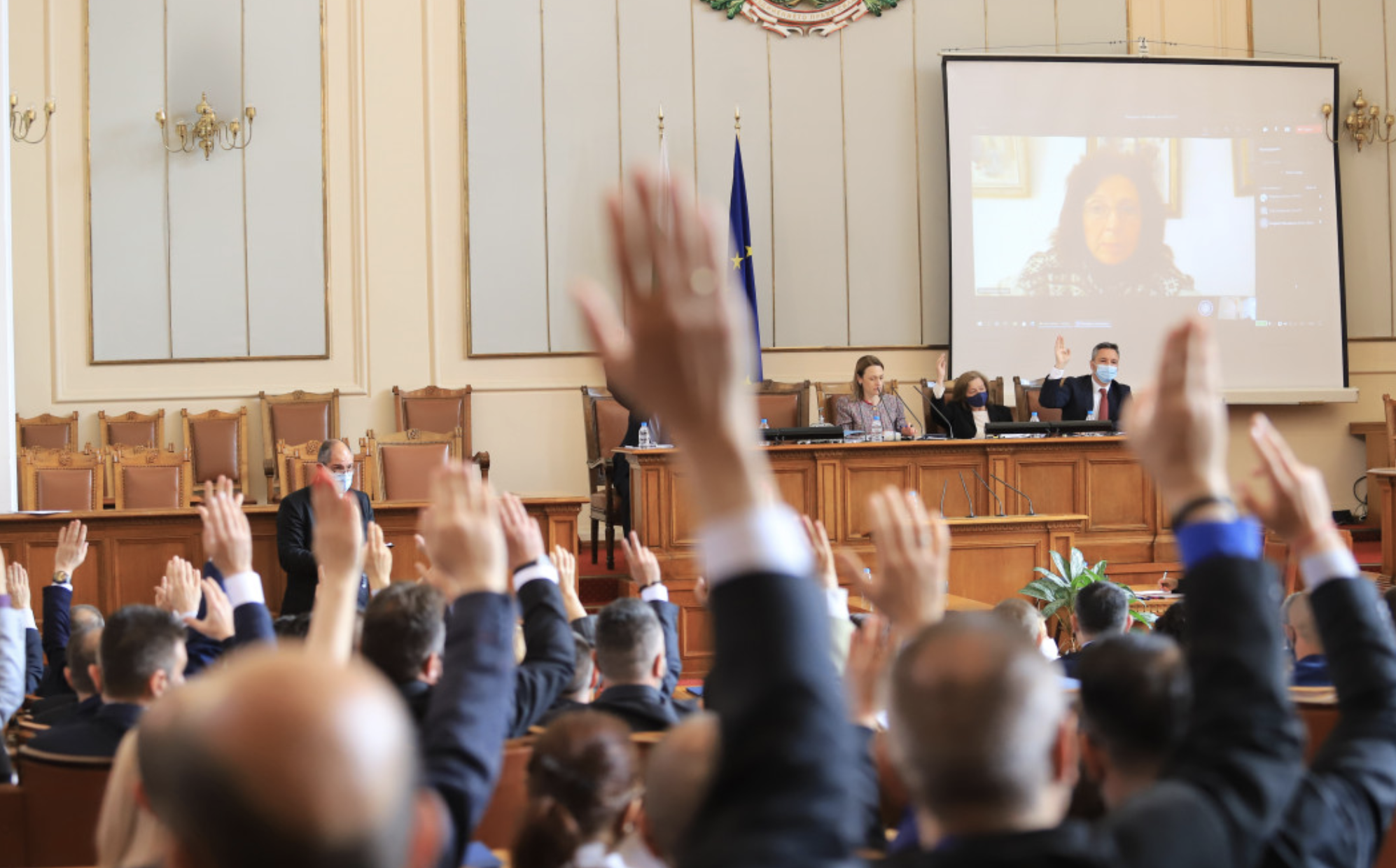 According to the Constitution, on Monday, April 19, the President of the Republic of Bulgaria Rumen Radev will hold consultations with representatives of the parliamentary groups of the 45th National Assembly before ordering the formation of a government to the candidate for prime minister of the largest parliamentary group.
The round of consultations will kick off with representatives of the GERB/​Union of Democratic Forces parliamentary group. By the end of the day, representatives of the "There Is Such A People" coalition, the "BSP for Bulgaria" coalition, the Movement for Rights and Freedoms (MRF), the "Democratic Bulgaria" coalition and the "Get Up!BG" coalition will meet with the President.
Earlier in the day, the National Assembly accepted the resignation of the third government with Boyko Borissov as prime minister, after ongoing disputes over the process. The decision was ratified with 156 votes in favor. MPs from the former ruling GERB party did not take part in the vote, although they were in plenary.
According to the Constitution, the resignation of the government was submitted from the first day of the newly formed parliament. The document was submitted by the administration of the Council of Ministers to the Parliament, without the Prime Minister or members of the government being present in the legislative institution, which attracted sharp criticism and comments. The government will continue to perform its duties until a new government is formed.
In addition, the deputies approved the establishment of a Temporary Committee on Abuse Control. Its purpose is to control money laundering by Boyko Borissov's government, ministries, state bodies and state-owned enterprises. 214 MEPs, including some from the GERB/​​Union of Democratic Forces coalition, supported the proposal. The chairman of the committee will be Maya Manolova from the coalition "Stand Up!BG". The former government's operations will be scrutinized over a period of 10 years. The deputies rejected the proposal of the GERB /​Union of Democratic Forces coalition to render the committee permanent. The committee will comprise 18 members, three from each parliamentary group.
Albeit without GERB votes, following a proposal by Maya Manolova, the parliament forced Boyko Borissov to appear before the National Assembly on April 21st and present Bulgaria's Stability Plan. Borissov was scheduled to present the plan today, however after announcing last night that he would be on leave, this did not happen. /ibna