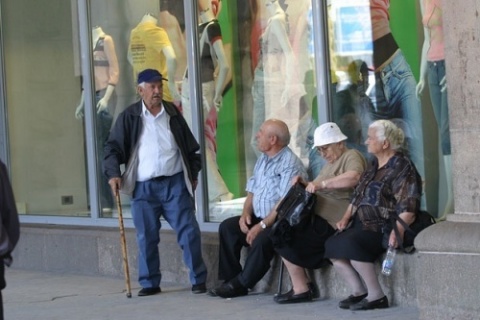 By Clive Leviev-Sawyer of the Sofia Globe
The Bulgarian Socialist Party government has been at pains to claim that its decision to hand out pension bonuses at Easter is not linked to the country's European Parliament elections just more than a month later – but opposition parties have criticised the move variously as vote-buying and as an admission of failure to reform the pension system.
The handout at Easter will cost about 57.7 million leva (about 28.85 million euro) to give all of Bulgaria's about 2.1 million pensioners sums of varying sizes.
Most of Bulgaria's pensioners, those above the 251 leva poverty threshold, will get 20 leva (about 10 euro). About 738 000 pensioners, those getting 151 to 250 leva, will get 30 leva and about 327 000 people, those getting 150 leva, will get 40 leva.
According to the government, the 57.7 million leva will be funded through "cost savings" and transfers from other items in the national budget.
Social policy minister Hassan Ademov has said that the bonuses would be paid with April pensions and "certainly before Easter".
In 2014, Easter is on April 20, the same day on the Bulgarian Orthodox, Roman Catholic and Protestant church calendars. Bulgaria's European Parliament elections are on May 25.
With more than six million Bulgarians eligible to vote out of a total population of 7.1 million, at 2.1 million, pensioners make up about a third of the electorate.
Pensioners also have tended, in Bulgaria's post-Zhivkov era, to be a key electorate for the BSP.
But at a news conference by leaders of Bulgaria's ruling axis on March 10, and in repeated statements by government figures, there have been denials that the handouts were election bait.
The BSP and Ademov, who is from ruling axis partner the Movement for Rights and Freedoms, are saying that the idea is for Bulgaria to pay bonuses to pensioners every Christmas and Easter, but "in accordance with the budget," in the words of Ademov.
Ademov said that the size of Christmas bonuses would become clear at the end of the year. At the same time, it would be decided whether to maintain the approach of paying bonuses to all pensioners, but on a differentiated scale.
He said that a differentiated scale was "not the fairest, but the least unfair" approach.
The Easter bonuses move received a scathing response from Boiko Borissov, leader of the centre-right opposition party GERB and who was Bulgaria's prime minister from 2009 to early 2013.
The government, Borissov said, was seeking to buy votes using "working people's money and loans".
Meglena Kouneva, leader of Bulgaria for Citizens, a constituent party of the extra-parliamentary Reformist Bloc, said that the one-off aid payments meant that Bulgaria's authorities were admitting that pensions had remained low and there had been no real reform of the pension system.
Kouneva said that there should be fair salaries and pensions every month, not only one-off payments at Easter.
It was far more important for authorities to be thinking about how to provide Bulgarians with jobs and how to increase pensions, she said.