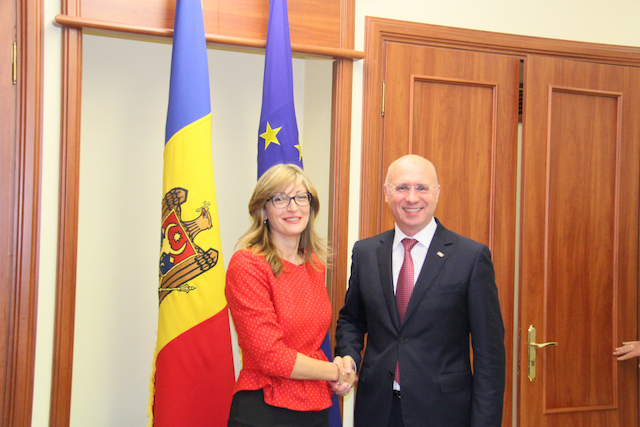 Bulgaria will continue to offer full support for Moldova's reform efforts meant to bring closer integration with the European Union, Foreign Minister Ekaterina Zaharieva said during a two-day visit to the former Soviet republic, during which she attended the opening of a new consulate.
Bulgaria's path to EU membership was a difficult one, but the tough reforms paid off, Zaharieva said, pointing out the strong economic growth experienced by the country since joining the bloc a decade ago. Moldova stood to tap the same benefits if it persevered with its reforms, she said.
One of the first EU states to ratify Moldova's EU association agreement in 2014, Bulgaria also backed the visa liberalisation pact, under which Moldovan citizens with biometric passports can travel to the EU visa-free, the Bulgarian Foreign Ministry said in a statement.
"I thank you for your support on our road to Europe. We need this light at the end of the tunnel, we cannot stand on the crossroads forever," Moldovan prime minister Pavel Filip said.
The two officials also discussed Moldova's ongoing efforts to push judiciary and education reforms. Zaharieva, who is also deputy prime minister in charge of judicial reform, welcomed Moldova's decision to impose a moratorium on school closures in small villages, which would have affected areas populated by the Bulgarian ethnic minority in Moldova, among others.
The new consulate in Taraclia, in southern Moldova, will further strengthen relations between the two countries, Zaharieva said. Taraclia district is home to more than half of the estimated 50 000 ethnic Bulgarians in Moldova and is also the location of a Bulgarian university…/IBNA
Pictured: Bulgarian Foreign Minister Ekaterina Zaharieva and Moldovan prime minister Pavel Filip
Photo: mfa.bg