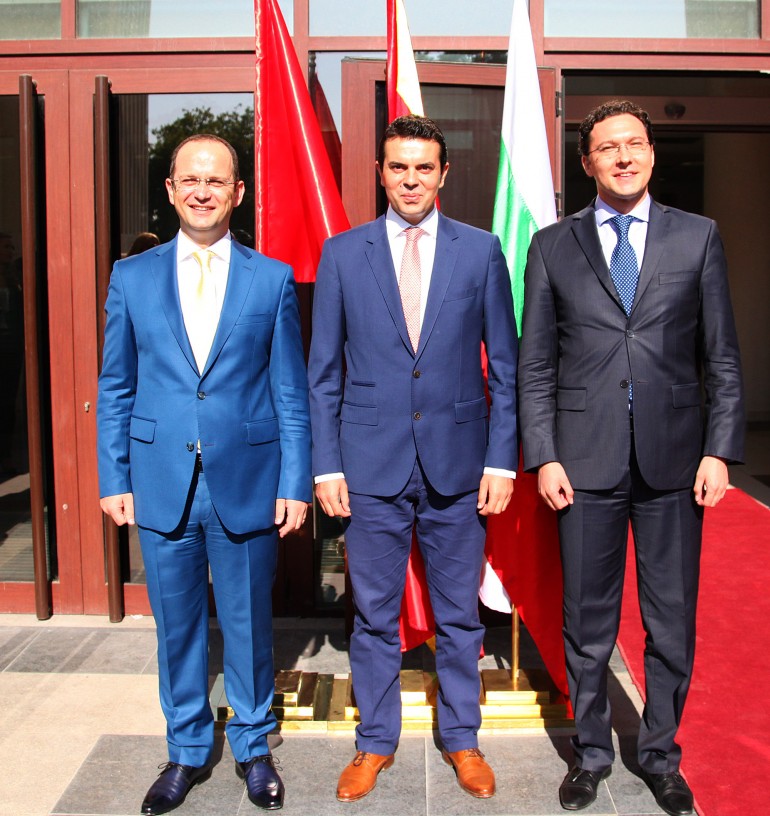 Sofia, August 24, 2015/ Independent Balkan News Agency
By Clive Leviev-Sawyer of The Sofia Globe
Bulgaria's Foreign Minister Daniel Mitov has spoken in favour of regional co-operation to help FYR Macedonia deal with its refugee problem, and has reiterated support for Skopje's Euro-Atlantic integration, becoming the latest Bulgarian foreign minister to say that a good neighbourliness agreement with the former Yugoslav republic is in the offing.
Mitov was in Skopje on August 24, hosted by his couterpart Nikola Poposki at a trilateral meeting with Albanian foreign minister Ditmir Bushati.
The Bulgarian Foreign Minister said that he expected that the final version of the good neighbourliness agreement between his and the neighbouring country would soon be approved.
Mitov said that Bulgaria would help to attract funds from the European Union for FYR Macedonia to cope with the refugee pressure.
"We also have thousands of refugees and we are part of the conversation how EU solidarity can occur in practice. We are one of the first countries to take refugees. There are many and I cannot agree with the assertion that refugees are not are treated well by the border police and refugee centers in Bulgaria. This is rather a matter of speculation," Mitov said.
"Bulgaria will help Macedonia tackle the refugee problem but the control at the borders is our obligation," he said.
The co-operation between the countries' customs services should be on a proper level, Mitov said. The control at the Bulgarian-Turkish border has been enhanced, too, as well as at other border checkpoints.
When there is a crisis, it is normal for Bulgaria to exert serious control on its territory as a sovereign country, Mitov said.
He said that Bulgaria needs such help, too but there is also a need to evaluate the needs of the neighbouring countries.
"Bulgaria will help Macedonia in the search for logistic and financial aid from the EU to cope with the refugee pressure. The refugee pressure concerns every one of us, both the EU member states and the candidate member states," Mitov said.
Because of poor treatment of migrants, Bulgaria has been the subject of criticism from the UN and human rights organisations, but Sofia officially rejects all allegations of violence and atrocities against refugees, although some of them are accompanied by video footage.
"The problem with refugees affects everyone, and we must seek co-operation and joint efforts to deal with it," Poposki said.
Mitov also expressed support for the desire of Albania to join the European Union. According to Mitov, the region should be increasingly integrated.
Mitov said that the EU will never be fully complete without the presence of the Western Balkans. He said that the August 24 meeting between the foreign ministers of Albania, FYR Macedonia and Bulgaria was a sign of the direction that the region should take.
"Macedonia has the strength and ability to cope with the challenges that are on the path to EU and Nato. Reforms are needed, but I think that Macedonia will reach the target it has set," Mitov said.