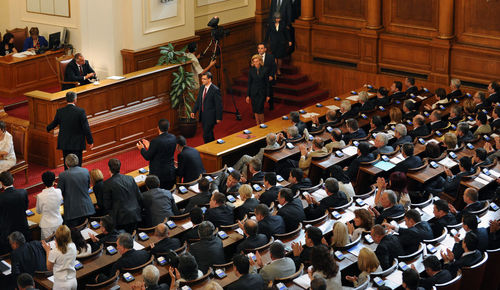 Sofia, January 14, 2014/ Independent Balkan News Agency
By Clive Leviev-Sawyer of the Sofia Globe
The Bulgarian government's security council has decided that there should be urgent legislative changes related to the fight against terrorism, with the Interior Ministry to take the lead in coming up with the changes.
The January 14 decision follows media reports that Bulgaria was coming under considerable diplomatic pressure to rewrite its anti-terrorism laws, with changes envisaged enabling the country to block the movement of radical militant Muslims who hold European passports to the Middle East.
The decision comes a week after the terrorist attacks in Paris on the Charlie Hebdo offices and on a kosher supermarket. Seventeen people died in these attacks. Subsequently, it emerged that Bulgaria was holding a man who allegedly was linked to one of the terrorists who attacked the offices of the French satirical magazine.
Briefing reporters on the outcome of the cabinet's security council meeting, Defence Minister Nikolai Nenchev did not specify precisely which laws would change.
He said that there was a debate among ministries about whether to change only the Penal Code or whether to revise other laws too.
It also emerged after the January 14 cabinet meeting that Bulgaria intended going ahead with a new 131km fence along the country's border with Turkey.
The fence will be built by the regional development ministry, and the intention is to make it more effect than the controversial 30km fence at the Turkish border, completed in 2014 and criticised in some quarters as largely ineffective.
Defence Minister Nenchev and Interior Minister Vesselin Vuchkov have been given the task of preparing amendments to the Interior Ministry and Defence acts to allow a role to the Bulgarian army in guarding the land border.
This has been a vexed issue in recent weeks, with various state and government officials arguing publicly about whether the army should be deployed at the border with Turkey. Among critics of the idea has been President Rossen Plevneliev, who said that deploying military personnel at a border with an allied country could cause a diplomatic scandal.
First indications are that the envisaged amendments would be intended to provide for "effective interaction" between the defence and interior ministries in border protection and to make it possible for the Defence Ministry to give logistical support to the Interior Ministry for security and surveillance of the country's borders.
The deadline for the two ministries to present the draft legislative amendments is January 23.