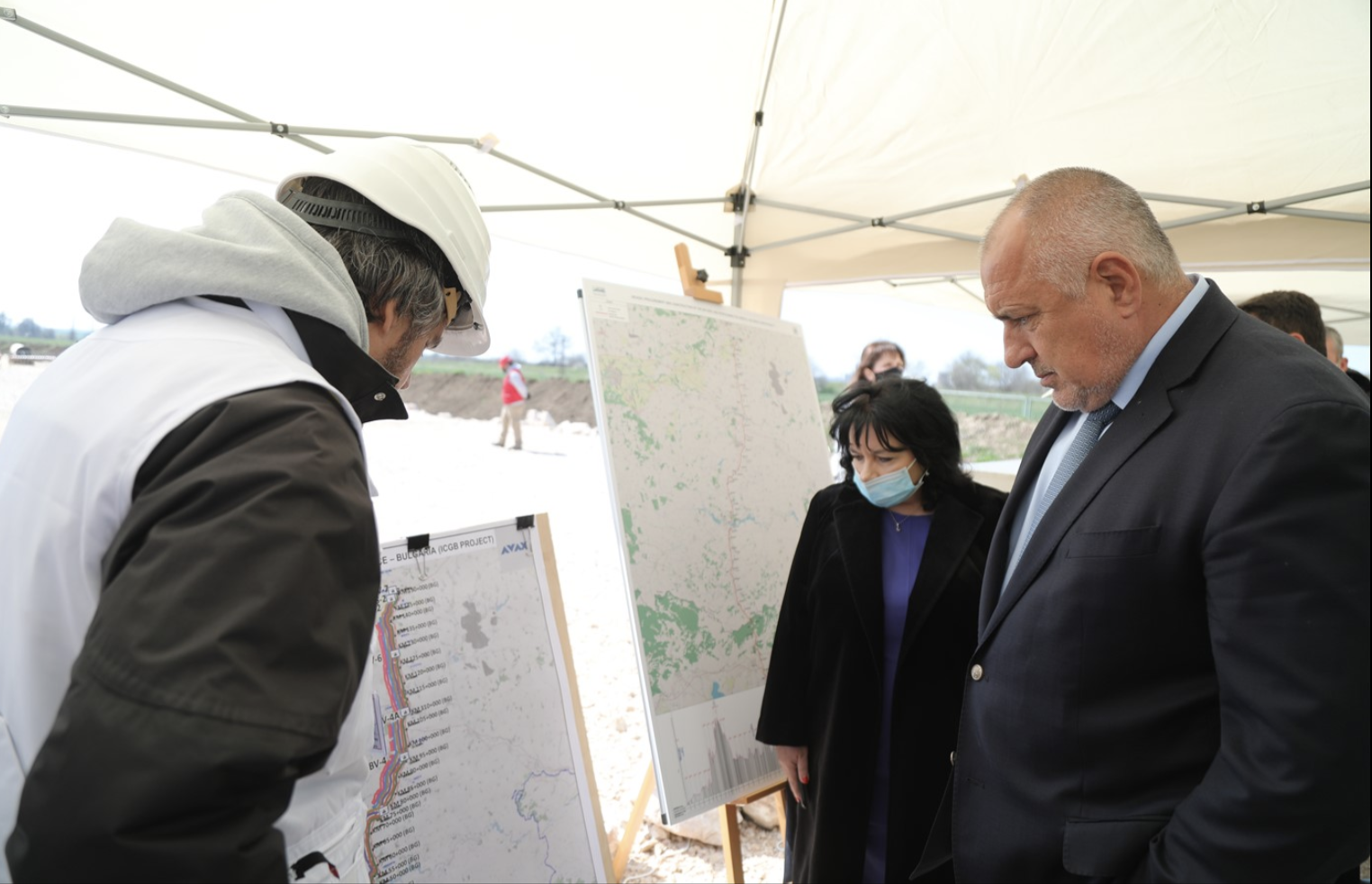 The Greece-Bulgaria interconnection must have been constructed by the end of 2021, so that liquefied gas can pass through Alexandroupolis, from many sources, such as American, Israeli, Egyptian, as in the future there is a possibility of increasing the capacity to 5 billion cubic meters of gas per year, said Bulgarian Prime Minister Boyko Borissov.
Borissov on Wednesday inspected the construction of the Greece-Bulgaria interconnection in the Dimitrovgrand area, noting that "it is 100% differentiation. When you see how difficult it is to do it, you understand why our predecessors did not do it", said the Prime Minister, adding that they are actively working to expand the Chiren gas storage facility, which is also part of the Three Seas Initiative, in which Bulgaria is participating.
Boyko Borissov visited the area along the route where the pipeline will cross the river Evros (Maritsa). All the preparatory construction activities have been carried out in this section. It is planned to cross the river through a horizontal borehole, which is the most environmentally friendly. The passage is about 500 meters long, at a solid depth below the riverbed and passes through various layers of land, which makes it extremely difficult for constructors.
The construction works for the gas connection are progressing, in an area of ​​150 kilometers. The pipes have been dismantled from the route to prepare for the next activities. The welds were made at 120 km, while at 70 km the pipes were placed in a trench. The total length of the gas pipeline is 182 km, of which 150 km in the territory of Bulgaria.
According to an additional agreement signed with the contractor AWACS, the company must follow the updated work schedule and the pipeline should be built by the end of 2021. Intermediate dates have been agreed for the completion of the basic stages, the most important of which is the completion of the intersections through the large bodies of water, until October 15, 2021. The construction continues to be carried out maintaining the initially agreed fixed price of EUR 144.8 million.
The construction of the Greece-Bulgaria interconnection is key for Bulgaria and the region due to its strategic importance, in order to ensure the diversification of sources and routes of gas supply. The project enables improved energy connectivity in Southeastern Europe, as it is being developed in synergy with other large existing and planned projects, such as the TAP and LNG terminals near Alexandroupolis, where the Bulgarian state is a shareholder./ibna