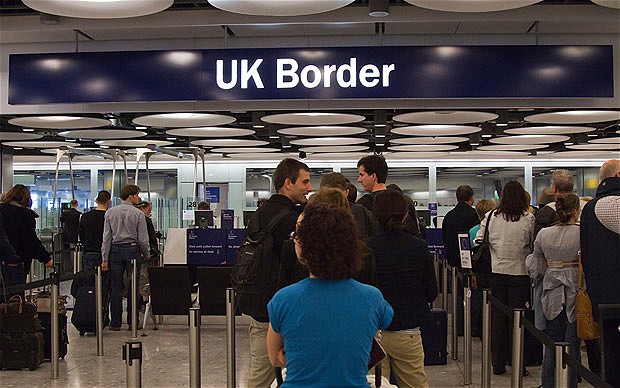 By Clive Leviev – Sawyer of The Sofia Globe
Bulgaria is considering hiring a lobbying company to respond to the powerful anti-immigration campaign in the United Kingdom, where media and several politicians have whipped up hysteria about a supposed mass influx of Bulgarians and Romanians when labour market restrictions are lifted across the EU in January 2014.
Apart from some media in the UK that have been frothing at the mouth – and no doubt quietly hoping to boost readership – about the spectre of hordes of Bulgarians and Romanians arriving to exploit social benefits and take away jobs, politicians also apparently are fearful of losing ground to the UK Independence Party and Nigel Farage, owners of the anti-immigrant issue.
The labour market issue has been clouded with misinformation, including through calls to take steps impermissible under EU rules, such as closing borders against Bulgarians and Romanians.
When Bulgaria and Romania joined the EU in January 2007, part of the treaty deal was to permit other EU member states to keep in place labour market restrictions for a transitional period until 2014.
Among the smears perpetrated about the end of this transitional period not only has been the notion that citizens of the two countries will use the opportunity to burden the benefits system, but also that a tsunami of crime will result.
Some media have tended to illustrate stories about the issue with photographs of Roma people, the – outright racist – implication being that all Roma are thieves.
Responding to the concerns raised among the public, the UK government has moved to lengthen the period that EU citizens have to wait before being able to claim benefits.
This has had a side-effect on British expatriates and also those UK citizens who have been outside the UK for just 13 weeks, as The Telegraph reported on December 19.
Just like all other EU citizens, UK nationals will face a tougher habitual residence test, including facing a "bank" of 200 questions, twice as many as before, to qualify for work-related benefits.
There have been some more measured perspectives on the issue.
Critics of the benefits system changes put forward by the UK government said that EU rules already mean residents of one country are not expected to claim benefits in another for their first three months there.
As reported by the BBC on December 18, Jonathan Portes, director of the National Institute of Economic and Social Research, said the government was bringing in "phantom measures to combat a phantom problem".
Sven-Joachim Irmer, head of the international bureau of the Konrad Adenauer Foundation in Romania and Moldova, told Deutsche Welle that it was not true that Bulgarians and Romanians were waiting with suitcases packed for January 1 2014, to move to other EU countries.
It was normal for EU citizens to look for jobs and education in other member states, he said, but there would be no migration wave of the type discussed in Western European media.
Meanwhile, a group of Tory backbenchers have been calling for the restrictions on Bulgarians and Romanians to be extended to 2018.
Conservative MP Philip Hollobone told a debate in the UK parliament: "We are importing a wave of crime from Romania and Bulgaria", the Daily Mail reported.
Sofia, Bucharest and London have been trying to calm the hysteria for months, with British diplomats reiterating time and again that there would be no discrimination against Bulgarians and Romanians.
Bulgarian nationals would be treated the same as all other EU nationals, British embassy deputy head of mission Catherine Barber told local media in Sofia on December 1.
Bulgaria's diplomats also repeatedly have tried to bring a sober perspective to the issue, with messages on the topic throughout recent months, irrespective of changes of government in Sofia.
In media interviews in late November, Bulgaria's ambassador in London, Konstantin Dimitrov, underlined that the flow of Bulgarian nationals to the UK after the end of labour restrictions in January 2014 would be unchanged from the current about 8000 a year.
He said that most Bulgarians who wanted to work in the UK under pre-2014 rules had managed to get the necessary work permits. (Apart from apparent confusion about the labour market issue including neglecting to mention that Bulgarians have had limited labour market rights in the UK for some years, including for self-employed people, some media reporting also has been fuzzy about the distinction between EU freedom of movement rules and labour market rights.)
Dimitrov emphasised that the negative messages about a "huge flow" of Bulgarians and Romanians to the UK came from certain British politicians and media, rather than the UK government itself.
But given the stakes in British politics about the migration hysteria, the sober messages of Bulgarian diplomacy appear to have no effect. British politicians have UKIP and Farage to worry about, including in the short term the contest ahead of European Parliament elections in mid-2014, but in the longer term, the domestic contest in Britain's legislature.
Ahead of this week's European Council meeting, the Daily Express – which has been among the most emotional in its coverage of the labour market issue – said that Cameron would tell other EU leaders that "freedom-of-movement rules for all EU citizens agreed in the past are no longer relevant in an age of mass immigration".
A British diplomatic source said: "The Prime Minister will say that he is a firm supporter of enlargement but we have to realise that when the EU was established and these treaties were drawn up, people were not expecting the mass migratory movement that there has been."
Cameron would tell the summit that forthcoming talks on a new EU treaty to enshrine closer economic integration in the eurozone "should also be used as a opportunity for overhauling freedom-of-movement laws," the Express said.
It is against this considerable background that Kristian Vigenin, a former MEP who currently is foreign minister in the Bulgarian Socialist Party government, told local media in Sofia that the government was considering the possibility of seeking the services of a lobbying firm to counter the anti-migration campaign in the UK.
However, he acknowledged that the use of lobbying firms was a sensitive issue given a previous controversy in Bulgaria about the use of a highly-paid lobbying firm in regard to EU issues.
Vigenin said that Bulgarians were not beggars in the UK, and not only did not exploit the social security system but in fact contributed to that system.
There was an upward trend of Euroskepticism and xenophobia in Europe, not only in the UK.
He said that in the UK, there was a party that had managed to gain popularity on the basis of this – an apparent reference to UKIP – which was why the British government was forced to announce measures showing concrete actions and overcoming the fears among the British.
The easiest victims of the anti-migration campaign were Bulgarians and Romanians with the opening of the labour market in 2014, Vigenin said.
He said that extreme nationalism and xenophobia should be fought by moderate parties at European level, which should mobilise their constituents, rather than the issue being left solely to Bulgaria's Foreign Ministry.
Vigenin said that the situation was likely to calm down early in 2014, but would escalate again at the time of the European Parliament elections next year.
Earlier, speaking to Bulgarian National Radio (BNR), Vigenin said on December 17 that if discriminatory measures appeared, Bulgaria was prepared to work against them in co-operation with the European Commission.
If such measures become a reality, reciprocal action would be undertaken, Vigenin said, according to BNR.