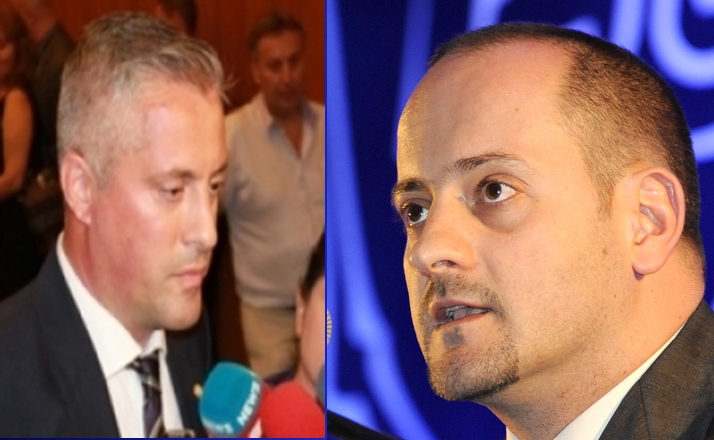 By Clive Leviev – Sawyer of The Sofia Globe
Recent weeks in Bulgaria have seen right-wing parties elect new leaders, new parties emerge on the right-wing and the resumption of the conversation of years about right-wing unity.
All of this is taking place against the background of the continuing political crisis and the nationwide protests demanding that the Bulgarian Socialist Party government that took office in May resign immediately – and that there be sweeping electoral system reforms to give citizens a more powerful say over the individuals in Parliament.
The "traditional" right-wing parties and coalitions have been in deep trouble for well more than a decade.
The year 2001 brought massive electoral defeat for Ivan Kostov, then-leader of the Union of Democratic Forces, at the hands of former monarch Simeon Saxe-Coburg.
Governments since then have been a succession of "liberal" parties, the notorious socialist-led tripartite coalition and, from 2009 to early 2013, the centre-right GERB party led by Boiko Borissov, the last-mentioned formed around Borissov and not arising from traditional right-wing elements.
The right-wing parties have gone through a long, traumatic saga of changes of leadership, abortive attempts at unity, short-lived working coalitions in opposition, sometimes complex relations with GERB and, most damaging of all, internal clashes over personalities and strategies.
The current crisis could present an opportunity for a "new" right-wing alternative, and there is at least some potential for success, albeit perhaps only on a small scale.
The leaders of the UDF and Kostov's later party, the Democrats for a Strong Bulgaria, stepped aside after their defeats in the May 2013 elections. In the past month, both have elected new leaders, both younger than those who went before – Radan Kanev of the UDF and, this past weekend, Bozhidar Loukarski of the UDF.
Meanwhile, recent weeks also have seen a number of new parties spring up, most formed around individual personalities – from a Bulgarian businessman who spent years working in Switzerland, to a "protest leader" from the February protests, and so on – and most also competing for the right-wing space.
The next obvious opportunity for the brand-name right-wing parties could come whenever elections are held. Several commentators in the Bulgarian media have said that it is no longer a question of whether the government formed by the BSP will be forced to resign, but when.
In the event of an election held sooner rather than later, there would be a potential opportunity arising from the ludicrous antics of ultra-nationalist Ataka party leader Volen Siderov. It is reliably understood that an unreleased opinion poll shows that, were elections held now, GERB would again return to Parliament with the largest single share of votes, the BSP would have fewer, the Movement for Rights and Freedoms would hold steady and Ataka would win no seats.
This puts forward two possible scenarios – a National Assembly with three parties instead of four, or a chance for parties that did not cross the threshold in May to do so this time. That is speculation, of course, but it has to be borne in mind that the parties that came close in May tended to be those on the centrist or right-wing.
Right-wing politicians are not waiting for these elections but are talking already, even if some of the same problems are arising.
One is quite how and in what form the UDF and DSB – which in any case ultimately emanate from the old unified UDF – could work together. Another is the very prickly question of working with GERB – if at all.
New UDF leader Loukarski has said publicly that his party will reach out to the DSB and could well achieve co-operation with other rightist formations, but he distanced his party from GERB. This did not deter GERB leader Borissov from sending a letter of congratulations to Loukarski, expressing his party's readiness for "dialogue and joint work together".
The DSB, meanwhile, is among minor parties to have involved themselves in a new "Reformist Bloc", of which the other members are former European Commissioner Meglena Kouneva's Bulgaria for Citizens, the Greens, the Liberty and Dignity National Party and Blue Unity. This group made it clear, at a meeting this past weekend, that it seeks not just seats in Parliament but thoroughgoing reforms of the electoral and political system in Bulgaria.
DSB leader Kanev also has said that he is encouraged by the messages that have come so far from the UDF's Loukarski which could make partnership with that party possible.
Kanev said that if so many people with reformist views were unrepresented in Parliament, it seemed that "our parties have made strategic mistakes". One of these had been a prior refusal to work with Kouneva's party ahead of the May 2013 elections, he said.
The task now was to unite similar causes, he said.
Interviewed on public broadcaster Bulgarian National Television, DSB deputy leader Petar Moskov said that the first task was to change electoral law to ensure fair elections, and after that came the task of changing the way that political parties interact with civil society. Transparency in political party funding was needed, while the courts, prosecution and security services needed to be released from the control of politicians, organised crime and the oligarchy, he said.
Further, legislation was needed against media monopolies and the sources of financing for media needed to be made transparent. In turn, amendments to laws were needed to remove organised crime groups from the field of public procurement.
The formations within the Reformist Bloc would come out on July 9 with their "concrete and clear" proposals for changes to the electoral laws.
This last point is an awkward one with which many opposed to the current government are wrestling.
However discredited and unsustainable the current government is seen as being, however bereft of ideas and coherent plans for economic recovery, however repulsive to the majority of Bulgarians, it may be that the current government would have to remain in place if only for so long as to approve changes to the electoral laws that would be acceptable to society.
Whether that is possible is on the long list of unknowns about the possible outcomes of the political crisis in Bulgaria and what chances it bears for real change, beyond the prospects of long-elusive right-wing unity.