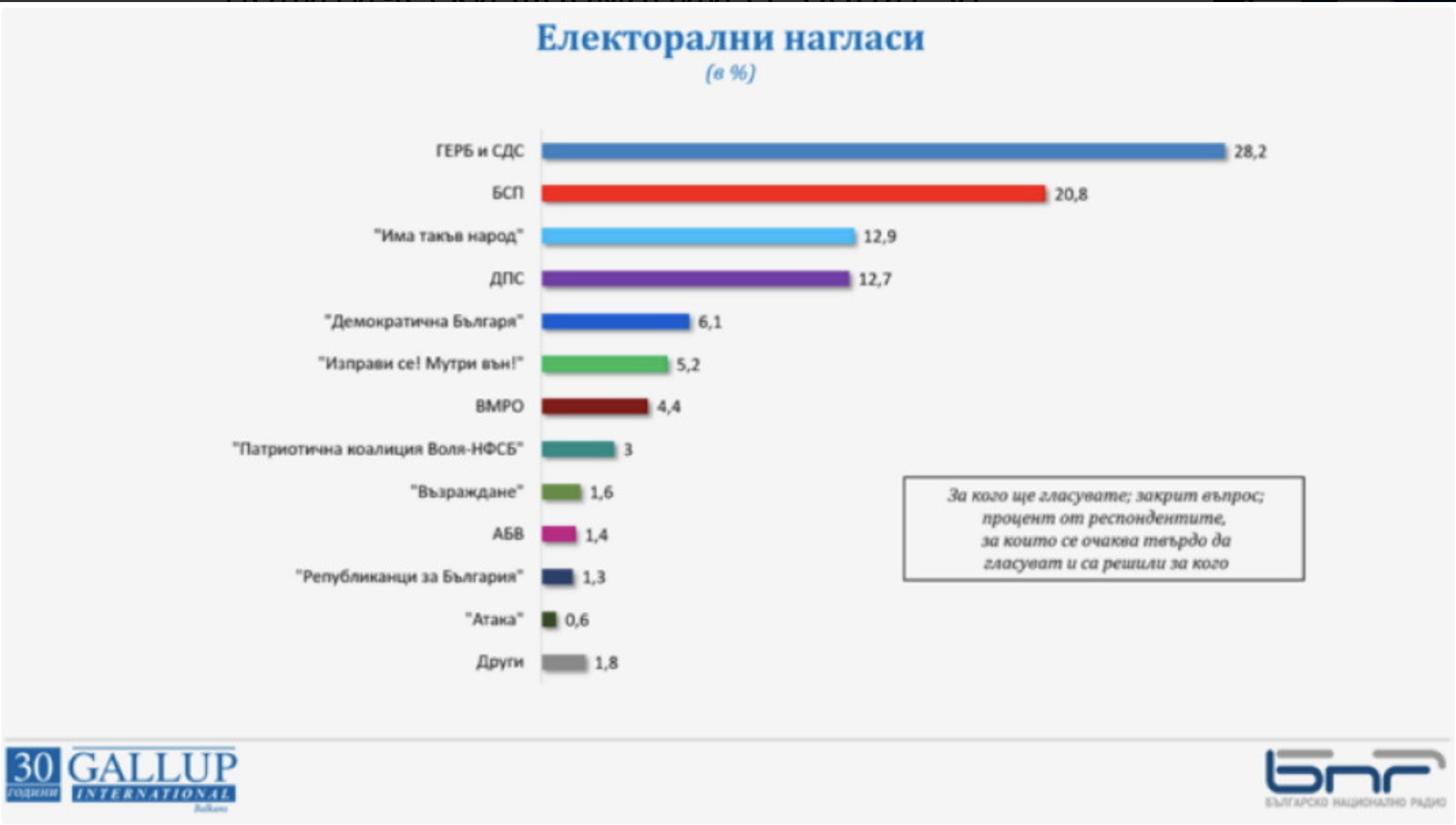 Seven parties would enter the new parliament if elections were to be held today, according to a Gallup International poll commissioned by Bulgaria's National Radio.
As the results show, voter turnout ranges from 2.6 to 2.9 million people. So far, the turnout of those saying they will vote based on real voters in the country is 50%; however, according to official list, it is expected to be significantly lower at roughly 40%. It should be noted that turnout forecasts are extremely difficult, and serious fluctuations outside these limits are not ruled out. At least one voter is expected to say "I do not support anyone."
With just seven days of campaigning left, if elections were to take place today the votes of the parties, coalitions and candidates, would be distributed as follows:
The GERB-UDF coalition would garner 28.2% of the vote, while 20.8% would vote for the BSP, with these formations leading the race.
12.9% are expected to vote for the "There Are Such People" party and 12.7% for the MRF. At this stage, it is almost impossible to determine which of the two parties will clinch the third spot, as it all comes down to the different types of mobilization in both parties.
"Democratic Bulgaria" with 6.1%, civil platform "Stand Up.BG" with 5.2% and VMRO with 4.4% are standing toe to toe, not that far away from the possible advantage. The prospects for these formations depend entirely on the last days, even hours.
These are the seven formations that would make it in Parliament if elections were to be held today.
However, the last days and hours can make all the difference. For example, the Volia-NFSB coalition has 3% and hopes to cross the threshold and enter Parliament. "Renaissance" is at 1.6%, the ABV at 1.4%, Tsvetan Tsvetanov's formation at 1.3%, "Ataka" is at 0.6%, while 1.8% is likely to vote for other parties.
The survey, conducted for the Bulgarian National Radio during the period March 24-31, included 1,013 adult Bulgarians and shows the structure of electoral behavior. /ibna