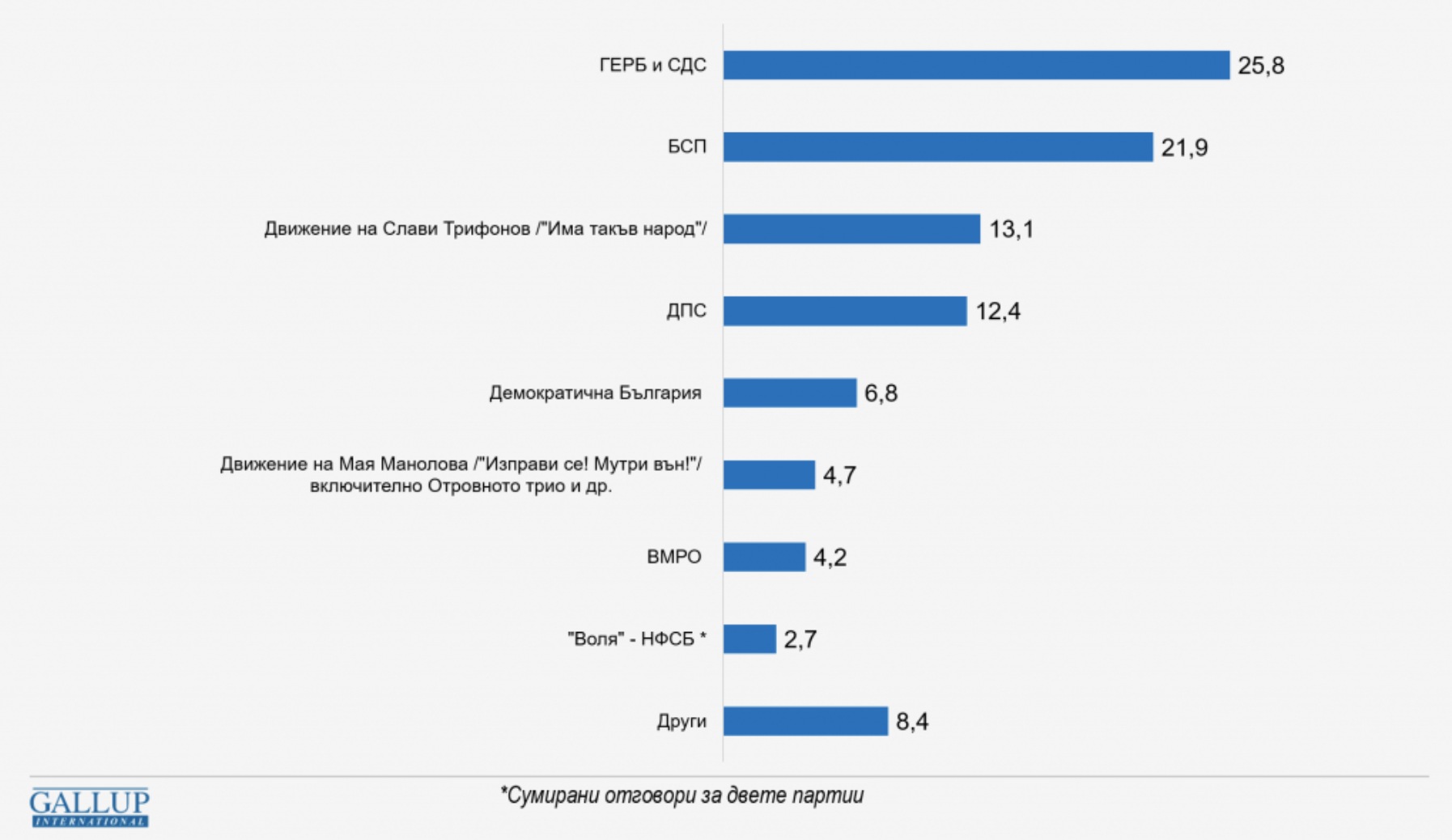 There are seven constituencies that will enter the Bulgarian Parliament, according to a survey by the independent Gallup International Balkan monthly survey program conducted among 1,011 adults with personal interviews of Bulgarians during the period February 4-12.
According to the poll, if the election took place today, seven formations would gain parliamentary representation, for two of which the election campaign being considered decisive. There are still some coalitions that hope to approach or even exceed the entry threshold, especially if the turnout is low or to fight for the subsidy.
Thus, according to the survey, 25.8% of those who say they will vote and have decided for whom, will vote for GERB and the UDF, making this the first choice for voters.
The Socialist Party (BSP) is in second place with 21.9%. The political formation "There is such a people" receives 13.1%, with MRF close behind with 12.4%. "Democratic Bulgaria" receives 6.8%, the formation around Maya Manolova 4.7% and VMRO 4.2%.
For the last two coalitions, the election campaign will be decisive for their chances of participating in the National Assembly. The Volia-NFSB coalition may also have such chances. The overall result of the explicit reports of the two parties is 2.7% as a probability of votes, but it remains to be seen whether the unification of the two parties will give a bonus or vice versa, something that could not be analyzed, as noted by Gallup.
The political formation "Resurrection" enters the election campaign with more than one percent, while formations such as ABV, Ataka and the Democrats for Bulgaria are also close to one percent. In all these parties and coalitions, the campaign will be decisive and surprises are not ruled out. There are several other formations that record percentages below 1%.
Of course, the data is a snapshot of the moment and not a prediction of the election result. The most difficult thing to predict is participation, as Gallup explains.
Figures in mid-February estimate that some 2.9 million people would vote if the election were held now. Under the conditional preliminary voter list, this is about 43%. This is the lowest turnout in the last elections, but again the traditional ambiguity about voter lists needs to be emphasized.
In the rest of the survey, the two institutions managed to overcome the damage to their image from the summer and the autumn. However, confidence levels in the Cabinet and the National Assembly are among the lowest in a decade, with confidence levels in recent months recording percentages similar to those of the last term of the Oresharski government, according to a Gallup International Balkan survey.
During this period, confidence in the military increased to its highest level in decades with 54% confidence and 28% distrust, earlier this year. Respectively, the Police records an increase in the trust of the citizens, as the traditional trust-distrust percentage in recent years, which was at the level of 40-50%, in the last month rose to 54-36% respectively./ibna