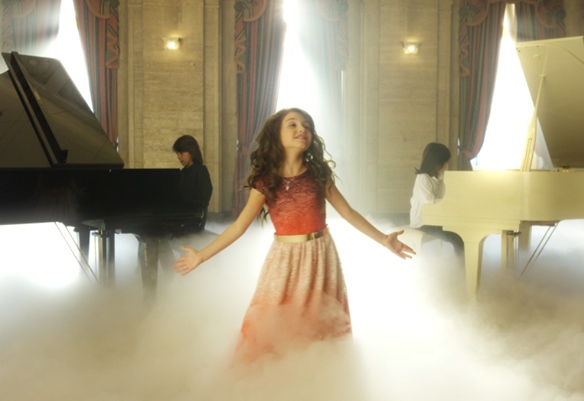 Sofia, January 16, 2015/ Independent Balkan News Agency
By Clive Leviev-Sawyer of the Sofia Globe
The European Broadcasting Union has sent Bulgaria an official invitation to host Junior Eurovision 2015, after the winner of the 2014 contest, Italy, declined.
Bulgaria ran second in the 2014 Junior Eurovision contest, and the broadcast of the final was among the most-watched shows on the public broadcaster last year, with more than million viewers watching it on Bulgarian National Television (BNT) and a further 1.4 million watching it online.
At the end of 2014, viewers of public broadcaster BNT voted the country's second place, with Krisiya's song Planet of the Children, the event of the year – defeating other events such as the government's resignation, devastating floods and Russia's aggression in Ukraine.
"This is a unique chance for BNT and Bulgaria, for us to be the host of one of the most prestigious music competitions in Europe. Krisiya, Hassan and Ibrahim proved that when we are united, success is possible," BNT quoted its director-general, Vyara Ankova, as saying.
This year will be the 13th in the history of Junior Eurovision. The competition was first held in 2003 in Copenhagen. So far, Bulgaria has participated four times in the song contest, in 2007, 2008, 2011 and 2014.
This year's Junior Eurovision will be held around November or December.
Having won the 2014 Junior Eurovision Song Contest, RAI of Italy was given the first option to host the 2015 edition – however the rules of the competition do not place the winning country under any obligation to host.
"Over the past couple of months, we have had detailed discussions with RAI of Italy about the possibility for them to host this year's contest," executive supervisor Vladislav Yakovlev was quoted as saying on a specialist website dedicated to Eurovision. "Unfortunately they are not in a position to hold the competition in Italy, but we thank them immensely for looking into the possibility of hosting."
According to Junior Eurovision 2015's Wikipedia entry, so far, three countries have confirmed their participation. – Belarus, Bulgaria and the Netherlands. In 2014, 16 countries took part, with countries making their debut including Montenegro, Slovenia and Italy.
For a country to be eligible for potential participation in the Junior Eurovision Song Contest, it needs to be an active member of the European Broadcasting Union.